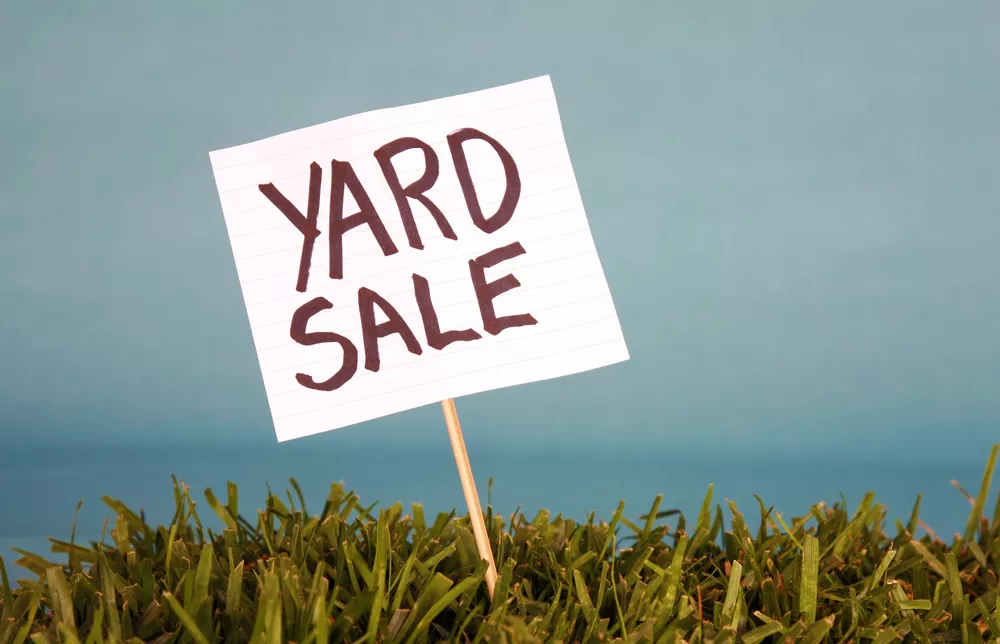 by Ruthie Prasil
Warm mornings mean prime yard sale time. When I was little, my mom would get together with a couple of girlfriends, spend a week getting ready, and on a summer Saturday, our front yard was full of treasures and people coming to buy them. The kids would get donuts and juice and beg to help.
Those are some of my favorite memories -- which is weird, because I hate having yard sales myself. Those shoes are marked 50 cents. If I wanted to sell them to you for 25 cents, that's what I would have marked them. Oh, you are picking up that vase and putting it back down? I'll let you know that a beautiful bouquet of flowers was delivered in that vase on the day my precious baby was born 12 years ago. Good day, sir.
Know what I do like, though? Making money by selling things we don't really need so that I can get Starbucks coffee for a couple of months and not even feel bad about it. So, I hold yard sales. You can, too, and it doesn't have to be a horrible experience. Here are some tips:
Spend a week getting ready. The week before your sale, clean everything you hope to unload. Freshly wash and hang clothing. Clean toys, household items, and furniture -- it makes a huge difference. Shoppers will be more likely to stop and look at clean item, and you can charge what you think it's worth without much grief. Then designate a setup area, either where you're actually holding the yard sale or elsewhere. This is just to get organized. Garage, living room, it doesn't matter -- lay everything out for pricing.
Let go of emotion when pricing items. Remember, people don't see that vase for anything of sentimental value. It's just a vase, and it's probably not worth more than $1. People go to yard sales looking for crazy good deals. With that in mind, when pricing items, choose a price that seems like a good deal and then go a bit lower. I know, I know, you bought that book for $17 so it's worth at least $5 right? Nope. $2 hardbacks, $1 soft cover. I'm telling you. Also, clothes will NEVER get the money you think they're worth. If you were to consign clothes, you'd earn around 40 percent of what the shop gets, and the shop sells for 33 percent to 50 percent of what items cost when new.
Have your cute kids set up a lemonade stand or donut stand in the front yard. No one can resist adorable, tiny faces. It'll keep the kids out of your hair, and they'll have some fun money, too. (Check out Inland 360's article about lemonade stands).
Advertise. You can post your sale in local newspapers, of course, and it's completely worth it. It's inexpensive and is something that people can carry around with them while they ride the yard sale circuit. Use social media, too. My secret is giving sneak peeks of sale items on Snapchat and Instagram stories. Sometimes this leads to an early sale of bigger, better items, and it encourages people to come see all the other awesome stuff at the actual the yard sale. It works really well. Get cash. The day before your sale, go to the bank and get change -- plenty of quarters, $1 bills and $5 bills. Designate a safe place to keep your money throughout the day. Borrow a money box, wear a fanny pack (I'm not kidding) or find something else that works. I only take checks from people I know, just to be safe.
Start early. Be ready 30 minutes before the advertised start of the sale. That way, instead of getting annoyed by early birds, you can sell your best stuff for the best prices.
Don't let people in your house. This is just a good solid yard sale rule. Most of your shoppers will be strangers, and I don't think it is safe to have strangers wandering around in your home looking for the bathroom or seeing what you have available.
Slash prices at noon. Make everything half off. After noon, fewer people will be stopping by, and those who do will really love low prices so you'll get rid of a lot. Less to pack back up. End the sale by 2 p.m. You'll be done. Shoppers will be done. You'll still have enough of your day to dip into your earnings, take a Taco Time break, grab an iced latte and relax.
There you have it. A blueprint for a successful yard sale. Prasil is a Clarkston mom of 6. She survives on stale goldfish crackers and Capri Sun pouches. She loves hip hop, Hogan's, spontaneous adventures and honking at anyone she recognizes. Send her an email at ruthieprasil@gmail.com.