The last time Steven Smith tested his acting chops was playing Santa Claus in a third grade production.

For his second shot at acting, Lewiston's Smith is playing Sheriff Bud O'Brian in the independent film "Harmony Falls."
"It's new," Smith said. "I've never done anything like this before."
His journey to the big screen began with a chance meeting. Smith, who founded Valley Karate School in Lewiston, was at the Quest of Champions karate tournament in Yakima when he met instructor David Reuben Aslin, of Longview, Wash. The two became friends, and Aslin later became a best-selling author. When his book, "Loup Garou: Beast of Harmony Falls" was in development to be turned into a movie, Aslin turned to Smith to play the sheriff.
In Aslin's story, a sheriff has to deal with a werewolf terrorizing the town. The main fight scene in a biker bar — yet to be filmed — is where Smith's martial arts skills, mainly karate, will be used.
"I'm helping choreograph my own character," Smith said about the fight scene, in which the sheriff is the main target in the melee.
He said the process of choreographing the scene is like teaching because of the exchange of ideas with other people.
"You want it to look real. You don't want it to look staged, so you have to come up with ideas that look practical and look unique," Smith said. "Hopefully it looks good."
Originally the character of the sheriff was written to be a "redneck" personality, Smith said. "I couldn't play that, so I'd have to be me."
The character was changed to better fit his personality.
Smith said the cast and crew have been supportive of him, despite his inexperience as an actor.
"I've grown a lot in the past month since we've been shooting," he said. "It was very nerve-wracking doing the first scene and not having a clue what to expect."
Nick D'Ettorre, a professional actor from Portland, Ore., plays the main character, investigator Ian McDermott. D'Ettorre taught and coached Smith along the way.
"That's helped tremendously," Smith said.
"The intimidating part was being on camera, and memorizing lines and having the camera there that you have to pretend isn't there, making it seem real instead of like you're memorizing something," Smith said. "They say I'm doing a good job."
Filming includes a lot of practice with "blocking," a term he learned on set that refers to being in the right place at the right time to create a scene.
"Timing is key," he said.
The movie began shooting about three months ago at locations throughout the Northwest, including the Washington cities of Longview, Kelso and Toledo, and the Ape Cave at Mount St. Helens in the Gifford Pinchot National Forest.
"It's kinda cool: We were talking to the ranger and police officer that came on site, and they couldn't remember the last time a film was done there," Smith said. "There's been documentaries, but it's been a long time since there was an actual film there."
The movie is being shot on the weekends. Like Smith, the other actors have day jobs during the week.
"Everything is shot on site, no stages; literally every single scene is shot on site," he said.
Filming during the pandemic has been difficult, but Smith said some restrictions eased around the time they began. They wore masks on set until the camera started rolling.
As far as when the film will be available to the public, Smith said it is planned to be released this year through a streaming service like Amazon, Hulu or Netflix, as well as in theaters.
"We might try to get a showing in Lewiston, but that's still in the beginning stages so I don't know if that is concrete," he said.
The Lewiston-Clarkston Valley native got his start in martial arts when he was 9 years old because his older sister kept beating him up, he said. "It was a natural thing for me, I love it."
He opened his karate school in 1993. In the mornings, he works at Sunshine Disposal in Lewiston and then teaches at the school.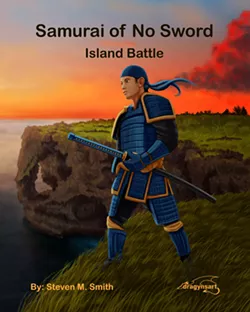 Smith also is an author. He recently published the book, "Samurai of No Sword." The book was inspired by moral stories passed down by karate instructors and presents a lesson in not fighting. Smith wanted to write a book to get the lessons out to more kids and plans on writing more in the future.
He also designs fight gear. He sells belts, beanies, uniforms, head gear and hand gear through his company, Kumite. In "Harmony Falls," there's a chance a biker in the fight scene could wear a Kumite hat. A pen might appear in another scene. Kumite is supplying the gear for the film, giving the company some special recognition.
"It'll be in the credits, but I don't know if people read the credits," said Smith. "I do, especially now."