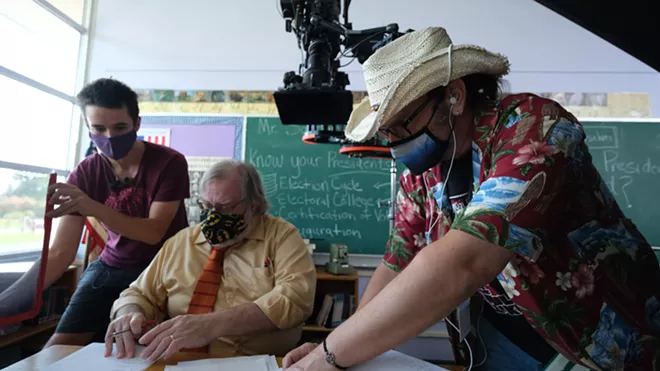 After living and working in Los Angeles for nearly 30 years, a Clarkston-raised writer and producer brought a film crew to the Lewiston-Clarkston Valley area to direct his first live-action movie.
The film was inspired by a pivotal moment in his childhood. When he was young, Rantz Hoseley liked to doodle. One day, he drew a single gaming die, titling the picture "Die" in large capital letters. He had no reasoning for his drawing other than it looked cool, but his father saw something different in it. He blew up, saying, "Why the hell are you saying life is a gamble then you die?"
"It just broke me. It completely snapped my brain in half," Hoseley said. "Good or bad, it fundamentally changed me."
Hoseley, now 53, wrote a screenplay based on that memory. With help from a dedicated cast and crew last month, he created an eight-minute short film called "Die."
The film, set in the valley in the 1970s, delves into the moment that a child discovers subtext, he said. But it also covers generational trauma, father-child relationships and toxic masculinity.
It begins with an 11-year-old named William Roberts. William is watching his father, Jim Roberts, speak to a biker friend who has several tattoos covering his arms.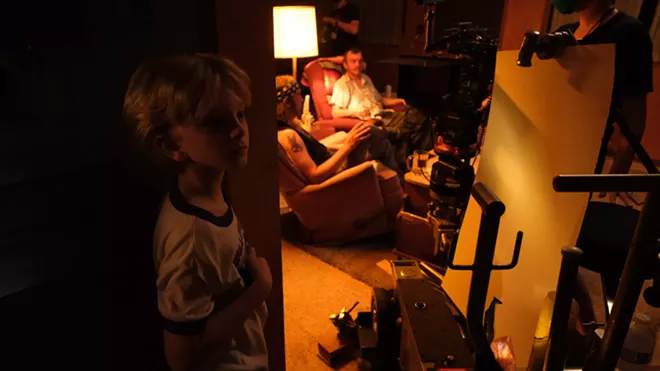 Tattoos were different in those times, Hosely said, because they were not seen as art. William becomes obsessed with sketching lightning bolts, tanks, swords and eagles. After he draws a single die on his spelling test, a teacher sends him to the principal's office. William's father arrives at the office and "blows up," like Hoseley's own father did.
"There is subtext in every single frame that reinforces that idea that we are trying to capture an authentic, very real, specific experience of growing up in an area like the L-C Valley in the mid-'70s," he said.
Hoseley called his own father a "world class grifter" who "coasted on his charisma and good looks" until he died five years ago. Hoseley, who has four daughters, said he tried to not be like his father. He was raised by his mother, who he described as a kind and generous person. She lives in Clarkston and will make a cameo in the film as the principal's secretary.
For the film, Hoseley said he wanted to focus on characters and showcase the environment in and surrounding the valley.
"I would not be trying to film a feature here ... if I didn't believe that there is something magical about this place," Hoseley said.
While he filmed landscape scenes in the area, he also found a talented cast, including the actor who plays William, Connor Cruz Stout, 9, of Clarkston. Connor was 7 years old when he auditioned for the role but, because of the COVID-19 pandemic, filming was postponed until August.
The delay helped Connor because it gave him time to grow, said Amy Baker Stout, Connor's mother and background coordinator for the film.
William, as a character, is drastically different from Connor, who likes to play and be with friends.
"(William) doesn't do much of anything," Connor said. "I don't think we would get along very well (but) I would probably try to make friends with him."
This was Connor's first time on a film set, but he isn't new to acting; he has an agent and manager in Los Angeles.
Amy said she and Connor's father, Greg Stout, set boundaries for Connor between acting and enjoying childhood. This film was his first paid role, and the money went into a savings account for his future.
"Connor definitely has big feelings," Amy said. "He gets the drama from his mama."
Connor and Amy will act side-by-side as Pugsley and Morticia Addams in the Lewiston Civic Theatre's October production of "The Addams Family: A New Musical Comedy."
Nathanael Tucker, a 46-year-old Lewiston violin instructor and food service employee with the Clarkston School District, plays the father, Jim Roberts, in the film.
Tucker said toxic masculinity is very ingrained in Jim's character, the opposite of his own personality. His approach to portraying the character came very close to method acting, which is when an actor essentially becomes a character.
"I felt like I was more mad at people all the time," he said. "My body language and tone of speech took on a difference (in me) … that was difficult."
During filming, he said he struggled with yelling and being angry at Connor. He would praise and assure Connor after emotionally-heightened scenes.
Jendra Jarnagin, a New York City-based cinematography director, praised Connor and Tucker for their talent and professionalism.
As director of cinematography for "Die," Jarnagin's job was to execute Hoseley's vision for the film. She wanted to work on the film because of Hoseley's background as a storyboard artist, which she believed would give a strong visual sense of what he wanted scenes to look like. She also loves period pieces.
Jarnagin said Hoseley drew out all the shots he had in mind. They weren't traditional, but instead had subtle nuances portraying the power dynamics between William and Jim.
"Remember something when you were 3 feet tall, and the world was bigger than you were," she said. "We wanted to convey that through William's experience."
The film's opening shot is probably the most difficult she has executed in her 25-year career, she said.
It starts with a close up of William's eyes staring intently on something out of the frame, then the shot widens to show William's full face. The camera then swings around at a 180-degree angle, focusing behind William in an over-the-shoulder shot to show him looking at his dad and a biker friend sitting on couches.
"A lot of times, these tricky camera moves, they can be kind of gimmicky… it can detract from the story by calling attention to itself," she said. "I felt that this was the opposite of that. The feeling that the shot evoked was exactly the right way to start this film."
Jessica Winfree, 32-year-old assistant director and co-owner of Northwest Motion Pictures in Boise, said the shot took about six hours to execute on the first day of filming.
Jarnagin enjoyed filming scenic images in the region for the short.
"Not being from the area, I got to see a lot of the natural beauty of the region," she said.
Locations for school and home scenes were scouted out beforehand by Will Thompson, a 38-year-old teacher at Jenifer Middle School in Lewiston and columnist for Inland 360 (see related story). School scenes were shot at West Park and Lena Whitmore elementary schools in Moscow. House scenes were shot in a Lewiston home owned by a mutual friend of Thompson's and Hoseley's.
Thompson also was in charge of set decoration. His assignment was to ensure the sets looked like they were from the '70s. At one point, Hoseley needed a used milk carton. Thompson went to the cafeteria of the school they were in, hoping to find one. He used some Folgers coffee to stain the lip of the carton, in an attempt to make it look used.
It was a small detail, Thompson said, but he knows it's there.
After filming, Hoseley returned to Los Angeles to complete post production with his editing crew, which includes cutting the film, composing the score, color-correcting scenes and audio mastering. The short film will be submitted to the TribecaFilm Festival by its Nov. 3 deadline.
The short is Hoseley's "proof of concept" for an anticipated full-length feature film about growing up in the '70s in an abusive household. If the short proves successful, the feature film is likely to follow.
"We've spent the last year making sure this was exceptional," Hoseley said. "So, we're not going to shortchange it now."