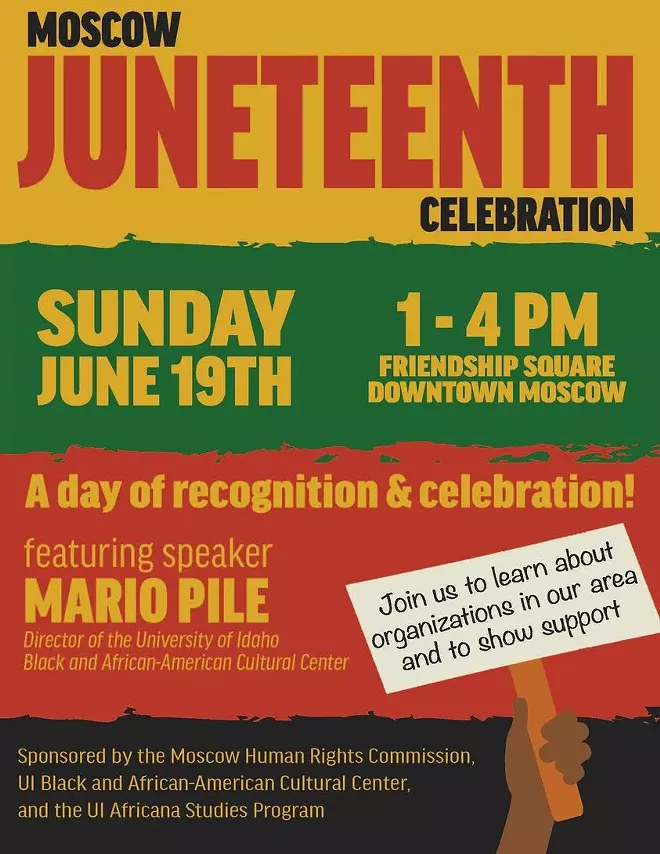 Juneteenth celebrations are slated for Lapwai and Moscow this weekend, as area residents recognize the holiday marking the emancipation of enslaved Black Americans.

Music, vendors and games are scheduled for 11 a.m. to 5 p.m. Saturday, June 18, at Lapwai City Park, 315 S. Main St. Park seating is limited, so attendees are encouraged to bring chairs or blankets.
"The day is designated to showcase Black excellence as well as uplift the community through the speakers and performers that are chosen," according to a statement on organizer Indigenous Creatives LLC's website. "We plan to deliver the overall purpose of acknowledging the importance of cultural identity and solidarity within tribal communities in the (Pacific Northwest)."


Moscow's event is set for 1-4 p.m. Sunday, June 19, at Friendship Square, on Main Street between Third and Sixth streets.
Mario Pile, director of the University of Idaho Black and African-American Culture Center, will speak, with spoken word/slam poets performing and a DJ providing music. There also will be children's activities, information booths about area human rights organizations and books for sale by BookPeople of Moscow, according to Moscow Human Rights Commission Chairperson Ken Faunce.