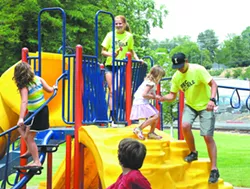 By MICHELLE SCHMIDT Inland360.com
LEWISTON — A few kids were gathered on each side of the tennis court at Sunset Park in Lewiston, bumping a big yellow ball back and forth. They and Spencer Gray were in the middle of a rousing game of tennis volleyball.
Yeah, Gray had never heard of tennis volleyball before either. At least, not until a few minutes before when he made it up. As a coordinator for the new Rec Mobile program through Lewiston Parks and Recreation, he's gotten used to getting creative with what's in front of him — in this case, a tennis court, a large ball and a handful of kids.
The program is new to the Lewiston-Clarkston Valley this summer and has become an instant hit with young kids and their parents. The Rec Mobile — a van stocked with play equipment and coordinators Gray and Steven Hasenoehrl — travels to a valley park or schoolyard for two hours each morning and another two hours each afternoon, Tuesdays through Saturdays.
Tennis volleyball isn't the only game to come out of this endeavor. There's also bench ball and super hero bingo, along with duck, duck, chicken and chicken tag, which utilizes a rubber chicken that Gray found while rummaging through the basement at Fenton Gym.
But it's not just original hits, they play the recreational standards too: tag, relay races, soccer, softball and kickball. Sometimes Gray and Hasenoehrl are the ones to direct the activities; other times kids just show up, grab some friends and equipment and get started on their own game.
Around 30 children show up most of the time. Some days or locations are quieter with closer to a dozen kids participating. And on Thursday mornings at Pioneer Park more than a 100 kids on average play games and listen to books in conjunction with the Lewiston City Library's Read, Play, Learn program.
All kids have to do to join in is show up. Parents are asked to sign a liability waiver the first time their child participates, and then it's free fun all summer long. Combined with the Freedom Pass that makes public transportation on the bus free to those 17 and younger, kids can follow the Rec Mobile all over town.
"Location is huge," Hasenoehrl said. At some locations, kids will just come out from the neighborhood, which is exactly why Rec Mobile moves around each day.
It's during a water break that the activity shifts from tennis volleyball to a game of chicken tag — minus the rubber chicken, since it recently went missing — on the playground. With a smaller group and diverse ages, Hasenoehrl said these informal games tend to work best.
The program is sponsored by Potlach No. 1 Federal Credit Union and McDonald's, which fund the coordinator positions. The equipment — balls, Frisbees, bandanas, bats, cones, even a bouncy castle — come from various sources, including donations by parents.
Gray had no idea what to expect when the program started up. But he's noticed some definite energy building for Rec Mobile. Kids are having fun and parents seem to love all the playtime their kids are getting.
"The outcome has been awesome," Gray said.
And with the program scheduled through Aug. 16, there's plenty more planned. A parachute is on its way, along with a slip-and-slide and other water play materials like splash balls. if you go WHAT: Lewiston Parks and Recreation Rec Mobile WHEN AND WHERE: TODAY — 10 a.m. to noon at Pioneer Park; 1:30 to 3:30 p.m. at Kiwanis Park FRIDAY — 10 a.m. to noon at Jenifer Junior High School; 1:30 to 3:30 p.m. at Beach View Park SATURDAY — 10 a.m. to noon at Pioneer Park; 1:30 to 3:30 p.m. at Hereth Park TUESDAY — 10 a.m. to noon at Pioneer Park; 1:30 to 3:30 p.m. at Centennial Elementary School WEDNESDAY — 10 a.m. to noon at Hereth Park; 1:30 to 3:30 p.m. at Beach View Park NEXT THURSDAY — 10 a.m. to noon at Pioneer Park; 1:30 to 3:30 p.m. at Centennial Elementary School Cost: Free Note: Updates on activities and last-minute changes can be found on the Lewiston Parks and Recreation Facebook page. Schmidt can be contacted at themichelleschmidt@gmail.com or at (208) 305-4578.