You can feel the music. Literally.
A vibro-acoustic bench, a recent addition to the Lewiston City Library, is designed to make music a physical sensation beyond listening with your ears.
"If you're hearing impaired, you can feel the music," Children's Services Librarian Colleen Olive explained. "The entire bench vibrates."
A combination of grants over the past few years, including Welcoming Libraries Grants from the Idaho Commission for Libraries ranging from $500 to $1,000, as well as $5,000 from the Lewis-Clark Valley Healthcare Foundation, have helped improve the library experience for patrons with a variety of needs.
The resulting list of resources includes a cart stocked with items designed to help individuals for whom environmental stimuli can be overwhelming, including people who are autistic.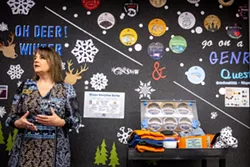 Olive said the cart's inventory has been popular among interventionists who work with those members of the community, both adults and children. Also being used by those patrons is the bench, which benefits not just people with hearing impairment, but those with sensory issues as well.
"A lot of those folks use the library with those clients," Olive said.
The items on the cart are designed for people with sensory sensitivity, she explained, but any given tool — noise-canceling headphones, weighted lap pads, manipulative toys — could help anyone struggling to relax, focus or find calm in a given moment.
A set of liquid fusion tiles, which respond to pressure such as a footstep with swirling colors and patterns, have served as an ice breaker for children's activities.
"We used them in our book club for tweens," Olive said.
Recognizing that items designed to improve accessibility benefit everyone, not just people with a diagnosed disorder, is a concept particularly relevant since the dawn of the pandemic, when life seems universally more stressful, she said.
"A big part of our goal is to normalize that kind of thing," she said about using the sensory tools. "Especially now, to give people something that will help with that anxiety."
Data from the 2020 census show the percentage of people claiming a disability in Lewiston is higher than the national average, at about 12% versus 8%, Library Director Lynn Johnson said.
That knowledge further galvanized the library staff in efforts to improve accessibility.
"There's a library in Iowa that inspired a lot of things that we purchased," Olive said, including the vibro-acoustic bench, which sits in a room on the main floor of the library designed to ease sensory overwhelm.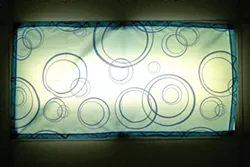 The space, equipped with filters to soften the light of its fluorescent fixtures, is available for walk-in use, unless it has been reserved.
The calming power of the room was in full effect on a recent day, with rhythmic music flowing through the bench, which syncs with a device such as a smartphone through Bluetooth.


The response from clients who come to the library with workers such as behavioral interventionists has been positive.
"We're really excited about that, and it is used quite often," Olive said. "That is our goal. Anyone can use these things."
Like the sensory items, the technology in the children's section offers options people of any age can appreciate.
Brightly colored keyboards at the computers are designed for contrast for better visibility, and they're made from materials that offer a softer touch than is typical, meaning the clicking sounds some users find distracting are eliminated.
Another addition to the children's section offers an option for young people with vision impairment, and perhaps a chance to help normalize such resources: A set of Braille books, primarily for readers ages 9-13, recently was brought out of storage and sits on a shelf alongside other reading materials.
Braille isn't the only option for readers with vision impairment.
Audio books are available through the Idaho Commission on Libraries' Talking Book Service at libraries.idaho.gov/tbs, and employees at the Lewiston library can help people get signed up.
"We also have a large collection of large-print books," Olive said.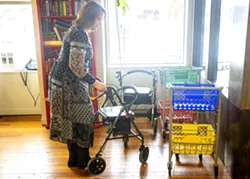 The Lewis-Clark Valley Healthcare Foundation grant also funded walkers, which are designed to provide a seat for resting as well as support while moving about, an addition that's especially welcome given the size of the facility, Johnson said.
"The library's really a large space," she said. "This allows people to move around the space a little more easily."
Bariatric seating, consisting of chairs at various places throughout the library, is designed for individuals of larger stature, but can be helpful for people experiencing a variety of mobility limitations, including knee or hip issues.
The chairs, purchased with the Lewis-Clark Valley Healthcare Foundation grant, sit higher than typical seating, and are wider, with a shorter seat, making getting out of them easier.
Some of the library's accessibility features date to its relocation to its current home in 2013. For example, wheelchair-accessible checkout counters were included when the new space was built.
And more will be added as funding is secured and needs are identified. Coming next are VOX Books, audiobooks built into children's books "so they can listen and read at the same time," Olive said. The concept has proven helpful for children who need extra help learning to read, she said.
Stone can be reached at mstone@inland360.com.