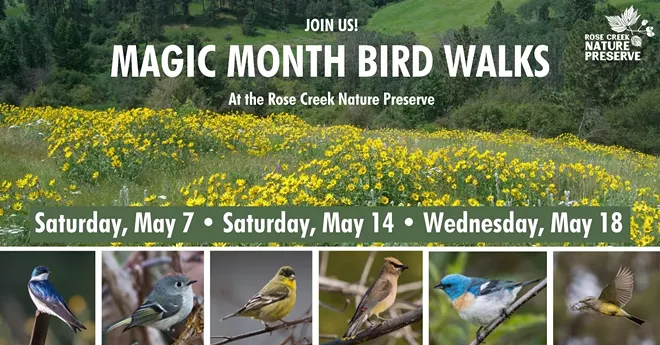 Limited space is available to register for bird-watching walks at the Rose Creek Nature Preserve wildlife sanctuary in Albion.


The Magic Month Bird Walks, set for Saturday, May 7, and May 14 and 18, are presented by the Palouse-Clearwater Environmental Institute, which owns and manages the preserve.


May is a time of peak migration for many birds, and guides will help participants spot various species, as well as botanical features and other natural happenings. All five of the warblers that migrate through the region — yellow-rumped, orange-crowned, yellow, common yellowthroat and Townsend's — may be seen or heard. Attendees are encouraged to bring binoculars.


The walks begin at 8 a.m. from the Rose Creek Nature Preserve parking lot.
Registration, which is required, is at
bit.ly/MagicMonthBirdWalks
.