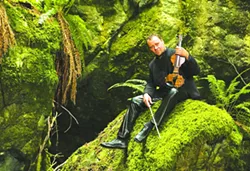 Imagine a magical musical brew - one part Charlie Daniels, one part Jean-Luc Ponty - with a twist of Celtic rock and you've got Geoffrey Castle.
Castle will perform at 7:30 p.m. March 3, at Washington State University's Jones Theatre in Daggy Hall in a concert presented by WSU Performing Arts.
A pioneer on the electric six-string violin, Castle began as a street musician in New York City and Paris and rose to play in the Tony Award-winning Broadway production of "M. Butterfly."
Castle's live performances have been described by critics and reviewers as jaw-dropping, high-energy, magical and spellbinding. Each time he takes the stage, Castle says, his goal is to transform people's notions of what is possible on the violin.
As a solo artist, Castle has several critically acclaimed releases. He has shared the stage with musicians including Blues Traveler, all of the original and current members of Heart, Buddy Miles and Alan White of Yes.
White recently tapped Castle to be a member of the all-star group The White Sox, whose roster includes Bernt Bodal (Høst), Spike Edney (Queen), Jamie Moses (Queen, Bad Company), Tom Bowes (Tower of Power) and Eric Bazilian (The Hooters).
As a show producer and band leader, Castle says he loves to bring a wide diversity of musical styles, including jazz and rock, to his high-energy Celtic celebrations. He will perform at WSU with Darin Watkins on percussion and Eric Robert on keyboards.
In recent releases like "Streets of Inwood: Celtic Soul," Castle brings a more urban, smooth and bluesy approach to traditional Celtic material.
The Seattle Post-Intelligencer said Castle's solo debut album, "Mist on the Mountain," was a pure, uncluttered masterpiece.
Castle, an advocate of community outreach and school performance, believes in inspiring the next generation and performs regularly for youth. Recently, Castle, along with 400 members of school orchestras in the Seattle area, set a world record for the most string players playing under one roof.
A graduate of Columbia University, Castle lives in Kenmore, Wash., with his wife, Shannon.
Tickets for the concert are $20 reserved seating, $15 for seniors; and $10 for WSU students with valid ID. Tickets can be purchased online at TicketsWest.com, by phone at (800) 325-7328 or at any TicketsWest outlet including the WSU Beasley Coliseum box office, open 10 a.m.-2 p.m. Monday-Friday. More information is available at http://performingarts.wsu.edu or by calling (509) 335-8522.
---
If you go:
WHAT: Geoffrey Castle in concert
WHEN: 7:30 p.m. March 3
WHERE: Jones Theatre, Daggy Hall, WSU
COST: $20 general admission, $15 seniors, $10 WSU students with ID