Not to be overpowered by its Kraken Black Spiced Rum base, Matt Terry's recent creation smells like it first tastes — of pineapple juice.
On ice, and ending with a warm sensation from a smack of cinnamon, the drink — Winter in the Tropics — has become a perennial potation at Nectar, a downtown Moscow restaurant and wine bar.
What sets the drink apart is that it is fit for any season.
"It is a unique drink because it will work just as well around the fire at Christmas or on the beach in July," Terry said.
And unlike other tiki drinks that can quickly amass eight or more sweet ingredients, Terry's concoction promises to set a relaxed vibe in just six.
In search of a new menu staple, Terry found his way to a blend of ginger and cinnamon simple syrups, fresh-squeezed lemon juice, pineapple juice and the aforementioned Kraken Black Spiced Rum, all shaken together on ice.
But something was missing.
"It needed bubbles," said Terry, Nectar's lead and most experienced bartender. "So I went with ginger beer to pair well with the ginger syrup."
He's found the drink's flavors come in waves.
Cold and refreshing with the warm cinnamon rush at the end, the drink offers a summertime pick-me-up and wintertime holiday nostalgia all in one. But surprising to some, including this columnist, sandwiched by pineapple and ginger flavors respectively, this drink is far from dominated by the 2 ounces of aged black rum with which it's coupled.
"The first thing you are going to get is the pineapple, then spice from the black rum, then the effervescence from the ginger beer and, the last thing, everyone is like, 'What is that flavor I can't put my finger on?' And that's the cinnamon."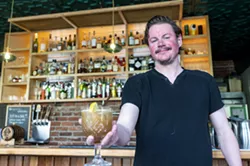 The drink is a fan favorite at Nectar, and a top-seller since it became available earlier this year. It's not lacking in the alcohol department, but is so smooth it can go down fast.
"It's not as boozy as, say, a Manhattan, but it has a decent amount of rum," Terry said. "It's a little sneaky. Someone could have two or three and not realize they are feeling drunk."
Winter in the Tropics is the latest addition in a long line of cocktails from Nectar, but this versatile drink will be staying around for good.
"We're always going to have the ingredients to make this drink, and it is pretty fun how simple it is," Terry said. "In any climate and environment, this is a crowd pleaser, guaranteed."
Babcock (he/him), a proud Coug, enjoys hard alcohol over a beer most days. He can be reached at (509) 339-3423 or jbabcock51390@gmail.com.
———
Winter in the Tropics
Combine, in a shaker:
½ ounce cinnamon simple syrup
½ ounce ginger simple syrup
½ ounce fresh-squeezed lemon juice
1 ounce pineapple juice
2 ounces Kraken Black Spiced Rum
ice
Pour into a glass of your choice. Top with about ½ ounce ginger beer. Enjoy!