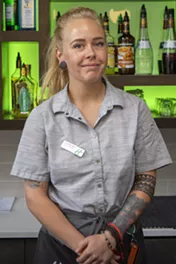 Courtney Mee's spin on a salted caramel White Russian isn't very Russian at all: Vodka isn't an ingredient.
She swapped the liquor out for Black Velvet Toasted Caramel whisky.
"It's different from any White Russian or even salted caramel White Russian you might find," Mee said. "The flavors just pop out."
Mee, 26, a Lewiston native who has been bartending since 19, has made the drink her way for more than five years at bars in the Lewiston-Clarkston Valley. For the past 3 ½ years, she's made the drink right on the water, at The Quay Restaurant inside the Holiday Inn in Clarkston.
With confidence, she said the number of times she has made the drink is in the thousands. And she knows it's good; the drink is a fan favorite and one of her personal "go-tos."
"When I was working at The Alibi (in Lewiston) someone ordered a salted caramel White Russian and they made it the normal way with caramel vodka," Mee said. "I was messing around and started using BV caramel instead of caramel vodka, and the caramel and the flavor of the whisky just made it taste way better, so I started doing that instead."
The drink blows a regular White Russian, consisting of vodka, coffee liqueur and cream, out of the water. It's no surprise Mee's clientele who know about her recreation prefer it.
Topped with whipped cream and a cherry, if desired, the cocktail tastes like an iced caramel coffee, its caramel sweetness coming together perfectly to mask the 70 proof alcohol.
Mee said many consider the concoction a dessert after eating dinner at The Quay, especially on prime rib nights.
"It's like an adult milkshake," she said. "There's no way someone could not like this."
The iced drink's ingredients include: a cup of ice, salt, Kahlua coffee liqueur, half-and-half and of course the Black Velvet Toasted Caramel whisky.
Making this drink at home is easy, but the amount of salt is critical, and it doesn't taste the same without it.
Mee said it's best to add less salt at first, since it can't be taken out. She uses about 4-5 dashes from a covered shaker.
She cautions about careful use of half-and-half too, noting the more cream, the thicker and heavier the drink will be, and the more you shake the drink, the foamier it will be. Mee said it's best to shake the drink twice.
"Just enough to mix the ingredients together," she said. "And if you're scarce on the alcohol, the drink won't be as sweet either."
———
Salted Caramel White Russian

Fill a pint-sized glass with ice.
Sprinkle 4-5 salt dashes on ice.
Add 1.5 ounces of Black Velvet Toasted Caramel whisky.
Add 1.5 ounces of Kahlua coffee liqueur.
Top with half-and-half.
Shake twice and pour into glass. Garnish if desired. Enjoy!
Babcock (he/him), a proud Coug, enjoys hard alcohol over a beer most days. He can be reached at (509) 339-3423 or jbabcock51390@gmail.com.