Some might reach for a hot toddy when the snow starts to fall, but John Leonardson, head bartender at Etsi Bravo in Pullman, has a sunnier solution.

The citrusy Captiva is named for an island, and brings thoughts of Leonardson's former home, in Florida.

"It's kind of a light, refreshing cocktail, but it also packs a punch due to the overproof
Jamaican rum," he said.

Leonardson's recipe is below, as well as instructions for creating the cinnamon and vanilla syrups that provide the sugar and a bit of spice to complement the lime juice at the tropical-leaning drink's heart.

"It's kind of like a variation on a daiquiri," he said of the off-menu cocktail, a product of the bar's Tiki Tuesday rum-drink tradition.

Leonardson assembled a Captiva on a recent afternoon, placing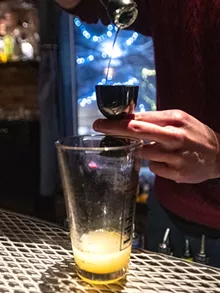 the finished drink, glowing in the light of an overhead lamp, atop Etsi Bravo's dark wood bar. Dim lighting, exposed brick walls, textured wallpaper and flickering candles lent a cozy feel as snow fell outside in the fading daylight.

The downtown Pullman haunt, which Leonardson describes as a "speakeasy, loungy kind of cocktail bar," opens up into more of a nightclub/dance party venue when the back "wall" is rolled away to reveal a larger space.

As winter sets in, the temptation to give in to the season, hunker down in a dark bar and order a hot buttered rum can be strong, but maybe those Christmas lights twinkling just outside the window should remind us that the holidays can be bright and lively, even amid the darkness.
Or, as Leonardson put it: "We don't have to wait for the summer for light, refreshing rum drinks."

Stone can be reached at mstone@inland360.com.

Captiva
Ingredients

1.5 ounces Smith & Cross Jamaica Rum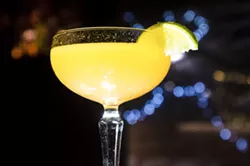 1 ounce fresh lime juice

½ ounce vanilla syrup
¼ ounce cinnamon syrup
Splash prosecco
Lime oil
Lime wedge
Combine ingredients in a shaker, shake and strain into a coupe glass. Garnish with lime oil and lime wedge.
Cinnamon and Vanilla Syrups
Ingredients
10 cinnamon sticks OR
2 vanilla beans, split
5 cups water
5 cups sugar
Combine cinnamon sticks OR vanilla beans and water; boil for 5 minutes. Remove from heat and add sugar, stir to dissolve. Strain cinnamon sticks or vanilla beans from mixture. Cool.