It very much takes a community to put on a Moscow Community Theatre show, and the production of the Harry Potter parody "Sally Cotter and the Censored Stone," opening April 1, is no exception.

"We have 26 youths from local schools that are doing the show with us," the theater's president, JT Steffens, said. "And it is all 100% volunteer."
That includes scene painting, which for this production has been the project of Moscow artist and Lewis-Clark State College graduate Autumn Cole, who describes her passions as Harry Potter and artwork.
The story Cole was tasked with illustrating follows Sally as she falls asleep while reading books about a certain juvenile wizard. Sally dreams she is a student at the Frogbull Academy of Sorcery, where danger awaits, and it is up to her and her friends Dave and Harmonica to save the day.


In the leadup to the play, Cole's living space was dominated by nine 4x8-foot canvases and five 3x8-foot canvases.


"My kitten has just been loving the obstacle course that my poor apartment has turned into for the past couple months," she said.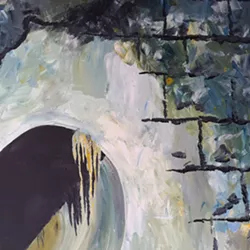 Painting the panels for the set has been a labor of love, though. Cole had helped a little with set design when she was a student at Lewiston High School and was looking for a way to expand on that experience. She said she enjoyed the challenge of trying to convey the depth of, for example, the great hall, where one scene takes place.
"It's just a totally different technique," she said of creating art to evoke a scene. "It's been a challenge for sure, but really exciting — and so awesome to have the opportunity to give back to the community and connect to the community."


Showtimes are at 7:30 p.m. April 1, 2, 8 and 9 and 2 p.m. April 3 and 10 at the Kenworthy Performing Arts Centre, 508 S. Main St., Moscow.


Tickets, $15 for adults and $10 for students and seniors, can be purchased at moscowcommunitytheatre.org/tickets/, Safari Pearl or at the theater 30 minutes before showtime.


Stone (she/her) can be reached at mstone@inland360.com.