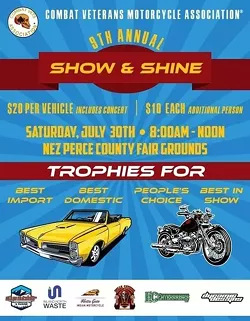 Music lovers have an array of choices this weekend, with three festivals set for Saturday, July 30.

* The Snake River Rock Festival, organized by the American Warfighters, is a fundraiser to help local veterans in crisis.
A lineup of a dozen bands is set to play from noon to 10 p.m. at the Nez Perce County Fairgrounds in Lewiston, with live music, food vendors and a beer garden, preceded from 8 a.m. to noon by the ninth annual Combat Veterans Motorcycle Association Show & Shine.
Concert tickets are $20 in advance at american-warfighters.com/snake-river-rock-festival/tickets and $25 at the gate.
Blacktop Mojo, from Texas; Art Of Dying, from Vancouver, British Columbia; and Sweet Emotion, an Aerosmith tribute band from Seattle, are joined by Lewiston-Clarkston Valley-based Tone Sober, Bombshell Molly and Ashton Richmond. Several other Northwest bands, including Children of the Sun, White Trash Romeo, Half Step Down and Mean Genius round out the docket.
All proceeds stay in the valley, according to the American Warfighters.
* The
Palouse Music Festival
, from 11 a.m. to 8 p.m. at Hayton-Greene Park on Main Street in Palouse, promises to deliver sounds from across the musical spectrum.
Bluegrass from Moscow's The Pond, Brazilian from the Palouse Forro Experience and classic/grunge/surf/punk/rock from Green Flannel are among the offerings, with seven acts slated to play.
Tickets are $10 for adults, $5 for kids 6-16 and free for children 5 and younger for the family-friendly event, which also includes arts and food vendors. The festival is presented by the Palouse Arts Council and Palouse Chamber of Commerce, with a beer garden organized by the Palouse Community Center.
* The Pond, Sultry Swines, Izzy and Allison, Steptoe, Nantucket Whalers and Good n'uf are set to play
Music in the Mountains
, from 4-9:30 p.m. at the Elk River City Park in downtown, Elk River. Admission is free, with beer from Elk River's Shattuck Brewery and food available for purchase. Proceeds from an auction will go toward a new gazebo in the park.