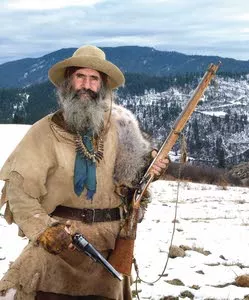 by Jennifer K. Bauer
jkbauer@inland360.com
HARPSTER - High in the mountains of northern Idaho lives a man who followed his heart back in time.
"Bear Claw," he says, introducing himself with a firm handshake.
His long salt and pepper beard tails off into a braid below which hangs a necklace of bear claws. He's dressed in worn buckskin leggings and a shirt that hangs to mid-thigh. A hand-hammered silver buckle secures a leather belt around his waist. An 1800s cap and ball revolver hangs at his side, along with a powder horn and knife.
"I live this life 'cause I can't dream this well. Thank you, Lord; it is something," he says about being a modern day mountain man in the backwoods of Idaho.
Bear Claw takes a seat at the dining room table of his friends and neighbors, Jim Fuller and Dixie Lynn, who live across the canyon from his one-room cabin at the edge of Blacktail Butte outside Harpster. Last summer, Lynn helped the National Geographic channel arrange to feature Bear Claw in its new TV series "The Boonies," premiering Tuesday, about people existing off the grid. A small crew followed him for several months, recording his day-to-day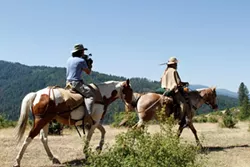 life while he lived in a tepee.
Bear Claw pushes up his sleeves to reveal simple geometric tattoos surrounding his forearms like cuffs.
Ask him how old he is and he'll answer, "59 winters."
He explains how he slowly shed the trappings of modern society over the course of his life. Born in Wisconsin, the youngest of 10 children, he grew up close to nature on a couple hundred acres, he says. He caught the mystique of the mountain man in high school, in a movie theater showing the 1972 film "Jeremiah Johnson." Based on Idaho author Vardis Fisher's novel "Mountain Man," the movie features a wisened outdoorsman named Bear Claw who mentors Robert Redford's character who is green to the ways of the wild.
"I saw Bear Claw and I knew exactly what I'd look like when I got older," he explains.
He thought all the mountain men were dead until 1988 when a girlfriend suggested they go to a rendezvous at Prairie du Chien, Wis., a place where tribes traditionally went to trade. At rendezvous people dress in authentic period clothing and keep fur trade-era traditions alive.
The girlfriend didn't last but the rendezvous habit did. He started dressing like a mountain man when he wasn't at one and became a member of the fraternal American Mountain Man Association.
"My family was always trying to get me to dress normal, whatever that is - no fun," he says. For 19 years he worked at a muffler factory. He drove forklift for 18 years. He moved to Idaho a decade ago to learn long distance horse travel at the invitation of a rendezvous friend, Conan Asmussen of Kamiah.
"He said he had a winter camp. Jump in the truck and you'd be family," Bear Claw says. Asmussen, his father Hans, mother Gail and Bear Claw were featured in a National Geographic photo spread in 2015 while at a rendezvous in Montana, which is where the show's producers learned of his lifestyle.
Bear Claw has lived primitively the last five winters. He hauls water from a neighbor's house where he keeps a freezer full of meat from hunting. He makes things by hand, brain tanning his own hides. He trims horses and does other jobs for neighbors. He always carries his guns with him, including a replica of an 1800s-era flintlock rifle with a dragon emblem that producers of "The Boonies" filmed him shooting in slow motion.
"It sure makes me feel more comfortable. I do. I really do," he says about carrying his guns. "I live by myself out in the middle of nowhere. There's a lot of wolves, cougars and bears."
Bear Claw isn't completely untethered from modern day life. His lungs are weak after years of factory work so he cooks with a gas grill and uses a headlamp at night instead of fire. Once in awhile he'll ride his horse, Rainbow, to church but he's more likely to ride in a tin wagon - mountain man speak for automobile. He travels to the settlement of Jawbone Flats to purchase supplies at the big store, which means he goes to Costco in Clarkston for the essentials. There isn't much he needs, "vinegar, salt and lead," and maybe some tea.
When Lynn and her husband want to communicate with Bear Claw they park their vehicle sideways in front of their garage. After he spots it, it takes him an hour and a half to ride his horse over. He'll use their computer. He plans to watch the Super Bowl with friends.
"Now, that's a game I like to watch," he says, recalling last year's infamous ending.
He calls himself a happy hermit. A couple gals have come and gone, he says, but that's OK.
"It's not an easy life but I love it."
He finishes his tale with a word of advice.
"If you let your horse take your feet or your eyes where your heart wants to be, you will pretty much have fulfilled all your dreams."
What: "The Boonies" When: Premiers at 9 p.m. Tuesday, Jan. 19 Where: National Geographic channel