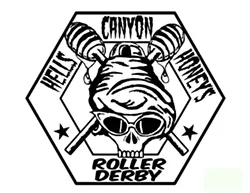 What's black and blue and red all over?
There are many possible answers but this weekend it will be area skaters new to the full-contact sport of roller derby.
Fresh meat is roller derby's ominous term for newbies. Saturday the Rolling Hills Derby Dames of Moscow and Pullman will host the Black and Blue Freshmeat Scrimmage at the Palouse Ice Rink.
The scrimmage will feature new skaters from Inland Northwest teams including the Hells Canyon Honeys of the Lewiston-Clarkston Valley; Coeur d'Alene's North Idaho Roller Derby and Snake Pit; and Spokane's Lilac City and Spokannibals.
Veteran skaters will act as refs, officials, coaches, and cheerleaders. All-ages are welcome. Doors open at 1:30 p.m. with the scrimmage starting at 2.
The Hells Canyon Honeys is the newest team on the regional derby scene. The group formed in April and starts regular practices this week at the LC Ice Arena in Lewiston.
"I've just always loved it, and maybe I want to vent a little aggression," says Myndie VanHorn Kernan, one of the team's founders, with a smile.
Kernan, of Lewiston, says she was drawn to the sport because she grew up on roller skates at the Lewiston Rollaway where her cousins worked. She was traveling to Moscow with another woman to skate with the Rolling Hills Derby Dames when they tired of the commute and decided to start a team in the valley. They began by floating the idea on Facebook.
"We had 55 people like it within the first 24 hours," says Kernan, 40. "We knew then we had the support to do it."
The Honeys have 20 active members ranging in age from 18 to their mid-50s. Skaters must be 18 to join the team which has applied for non-profit status. In order to compete in a bout skaters must pass a skills test outlined by the Women's Flat Track Derby Association. One member from the team will be skating in Saturday's scrimmage. The rest of the team will be there in support, says Kernan, who works as a manager at Fastenal in Lewiston and skates under the derby name Myndusa.
Anybody can be a derby girl, Kernan says, even if one has never skated before.
"Come and join us. We're fun. We're accepting of everybody. We'll teach you to skate. It's great exercise."
The Hells Canyon Honeys will have a fundraising booth 5-8 p.m. Wednesday, June 20 at Alive After Five in downtown Lewiston. The team is seeking sponsors to help cover the expenses derby teams face which include registering the team, uniforms, paying for a practice space and eventually traveling and hosting bouts. The group is also asking for donations of helmets; wrist, knee and elbow pads; and skates.
"The more we have the more new people we can accept without having to have them buy their gear to start out," Kernan explains.
More information about the team is available on Facebook at Hells Canyon Honeys, or by emailing hellscanyonhoneys@gmail.com.
What: Black and Blue Freshmeat Scrimmage When: 2 p.m. Saturday, doors open at 1:30 Where: Palouse Ice Rink, 1021 Harold Ave., Moscow How Much: $5, tickets available at brownpapertickets.com