MOSCOW — Novelist and essayist Anthony Doerr will read from his work next Thursday at BookPeople. The free reading is at 8 p.m. and will be followed by a book signing.
Doerr, of Boise,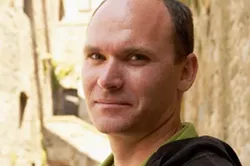 is the author of four books, "The Shell Collector," "About Grace," "Four Seasons in Rome," and most recently, "Memory Wall." His books have twice been listed as a New York Times Notable Book, and as an American Library Association Book of the Year.
In 2007, the British literary magazine Granta placed Doerr on its list of 21 Best Young American novelists. The store is at 521 S. Main St.