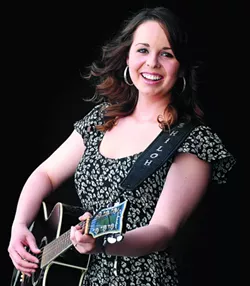 At age 20, Moscow singer Shiloh Sharrard has already spent half her life on stage.
She sings the music of another time — classic country along the lines of Waylon Jennings and Dolly Parton. Her sunny personality, on stage and off, blows the dust off the label "classic."
"I love that people afterward feel comfortable enough to come up and give me a hug," says Sharrard, a brown-eyed, brunette with a smile that makes you feel like family and puts you on a first-name basis.
Her father warns she has an evil side, though.
"She'll sing a song that'll make you bawl and then laugh at you," says Preston Sharrard, who has toured by his daughter's side through more than 600 shows — the fairs, barbecues and cowboy gatherings that shaped her youth.
He adds that she also enjoys making men blush when she looks at them while singing, "Hey Good Lookin'."
If you saw Shiloh perform as a child, in her new CD, "Going Nowhere," she has grown up. With songs like "Wagon Wheel" and 1954's "I Don't Hurt Anymore," later covered by Bob Dylan and Johnny Cash, the CD is "very classic country," Shiloh says and defines that as it "tends to move toward that older twangy sound where the steel guitar is a little more dominant, as opposed to rock."
Most of the songs are newer and never recorded, written by Nashville writers and local artists. She'll release the CD at a concert Saturday night at New Bridges Community Church in Lewiston. Shiloh was 9 when she first sang at a school talent show. She loved it, and when she was 10 the family began spending weekends traveling for her shows.
"I would have told her flat out if she wasn't any good," says her father. "She has a talent, and she shouldn't waste it."
Besides public school music programs, she has learned from the older musicians she grew up around.
After graduating from Troy High School and being crowned Troy Junior Miss, she decided to pursue music instead of college. She wants "Going Nowhere" to signal to her fans that her childhood on stage was not a phase, she's in it for the long haul. She also hopes the CD is a stepping stone to Nashville.
"If I just had the gasoline to get there, I'd worry about where to live and what to eat later," she says. She's fine with not getting there too, saying with a shrug and a smile that she'd be just as happy living in a trailer.
Shiloh can wonder if she was born too late when she looks at her audiences and sees an older generation. She doesn't take them for granted. The age range is starting to widen, she says, but she's not going to change the music she loves to get younger people there.
Classic country fits her voice, she says, and "it feels more like me." If you go Who: Shiloh Sharrard CD release concert for "Going Nowhere" When: 6-8 p.m. Saturday Where: New Bridges Community Church, 2102 Eighth St., Lewiston Cost: $10 at the door, kids 12 and younger free