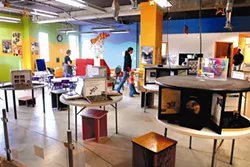 By MICHELLE SCHMIDT
PULLMAN — Giggles erupt from the far end of the room. They don't stop for several minutes, until mom walks over, dragging her children from the anti-gravity mirror. Science, after all, is not supposed to be this fun.
Except science is fun. At least it is at the Palouse Discovery Science Center in Pullman where one might hear ...
"Wow, I didn't know that!" "What if we tried it like this?" And the occasional, "Ewwww!"
Bright colors, cheerful workers, and happy chatter surround displays featuring things children are usually told not to touch. Clearly this is no ordinary science lesson.
This is the science of the everyday — light, sounds, numbers and nature; and the science of the novel, mammoth bones and an Ames room which is an interactive, three-dimensional, optical illusion. All of it is hands-on and intriguing to all ages.
Accessibility is what Victoria Scalise, executive director, wants visitors to take home. "Science is all around us and you don't need a lab coat to learn it," she said. This science center might be smaller than those in larger cities, but that comes with advantages. "I've heard more than once, from families who've been to the larger centers, that we have the same concepts, but that they feel safe being here," Scalise says.
Many exhibits and presentations are specific to the region. The mammoth exhibit, lentil dinosaur dig and a sensory art display by Pullman artist Jack Dollhausen all add local flavor.
A quick tour of the facility includes the Little Learners Lab for preschoolers and the Wildlife Hall with live animals like Hiccup, the black rat snake. Kids who spend a few minutes with Jake Brandvold, the animal caretaker, will be able to rattle off a litany of animal facts. For example, Hiccup's piercing blue eyes means it is about to shed its skin.
The center doesn't serve food but visitors can bring their own and eat in the Brown Bag Cafe. Another family friendly feature is the Quiet Room, where tired or overstimulated kids can take a break with some books in a comfortable, low-lit room.
Each week the science center selects a theme and holds daily presentations for specific age groups. Staff educators all have a science background.
"They're very good at what they do," Scalise said. "They're used to working with different types of children of all different ages."
Field trips, birthday parties, and outreach in local schools are all part of the center's activities. This summer, five different weeklong day camps cover topics from robotics to kitchen science.
Yearlong memberships to the center allow free admission to hundreds of other science centers around the world, including those in Portland and Seattle. Visitors considering a membership can save their receipt to apply toward the membership fee.
Parents and grandparents who visit with children should be prepared to hear lots of questions.
if you go: WHAT: Palouse Discovery Science Center WHEN: 10 a.m. to 5 p.m. Tuesday and 10 a.m. to 3 p.m. Wednesday – Saturday WHERE: 950 N.E. Nelson Ct., Pullman ADMISSION: $7.50 for adults (15 to 54), $6 for seniors (55 and over), $5 for Children (2 to 14), Children under 2 are free, Seniors are free on Friday.