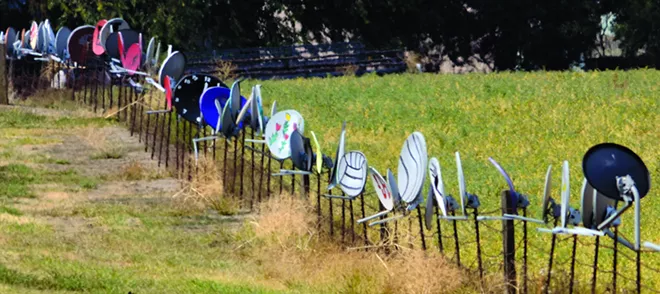 Over the past several years, whimsical satellite dishes have inexplicably multiplied along a Palouse fence line on U.S. Highway 195 between Lewiston and Uniontown.
It began like many of these types of things do: "It just happened," said Ben Wolf.
Wolf was the first to put his dish atop the fence. He and his family lived in the white home next to the fence for a time, and when they moved to a home across the highway, he didn't know what to do with his old satellite dish. So, naturally, he stuck it on the fence.
And that was how it started. It wasn't a statement about his satellite service or part of plan for a community public art installation, it was a playful moment that simply took on a life of its own. Friends and family noticed the solitary dish and soon another was added.
"After that, they just started showing up," Wolf said.
The collection has been slowly growing since 2000, with various people from the community adding dishes of their own — with permission, of course. But the most noticeable change happened in the spring of 2014 when Ben's son, Jake Wolf, took it on as a senior project.
"I thought of painting all the satellites," Jake Wolf said. "So I gathered a bunch of people, and we did it." He contacted a number of local businesses to collect additional used dishes for the project and then gathered old paint of various types and colors. A couple dozen people, mostly extended family and classmates, came out one day to paint the dishes. After they were complete and the paint had dried, Jake Wolf painted a clear finish on the dishes to help them hold up in the rain.
The satellites now extend the length of the fence, but people continue to stop and ask if they can add to the colorful display.
"And amazingly, it hasn't blown over the fence yet," said Marilyn Burg with a laugh. Burg owns the fence and land on which the satellite dishes stand and noted how the wind regularly turns the dishes away from the road.
The subject matter on the dishes varies. There are quite a few school logos, but most are simple paintings — flowers, animals and other basic designs. There's a Sasquatch crossing sign, along with an Ironman series added by Kile Allan, who now lives in the white house, to commemorate his Ironman qualification. People regularly pull to the side of the road for a closer look and often a few photos as well.
As an unexpected effect, the fence — sometimes called "The Satellite Fence" — has become a reference point for those who live nearby.
Perhaps it shouldn't be a surprising development. After all, it was Ben Wolf's mom, Kathy Wolf, who was among those who got the Fourth of July Parade in Johnson going, which he said evolved in much the same way as the satellite dishes.
"It's some weird gene we got," he said, laughing.