by Michelle Schmidt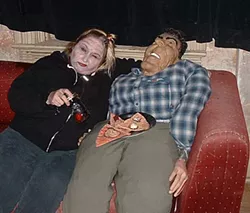 Old buildings, museums and shady alleys can be scary even when they're not trying to be. And when they are?
During the next two weekends, downtown Palouse undergoes a nighttime transformation from a quaint farming town to a place of sheer terror. Creaks and howls greet visitors as they wander through the Newspaper and Printing Museum and Old City Fire Station (old jail included). Add a hay ride through Shady Lane, and you'll have gotten your dollars' worth of fright.
"It's well done," said Annie Pillers, event coordinator.
So well done, in fact, that it might not be a bad idea to wear disposable undergarments. But then, if you do wet yourself, at least you wouldn't be the first.
Twelve years ago, Haunted Palouse began as a fundraiser to restore the Roy M. Chatters Newspaper and Printing Museum, which had flooded during the spring of 1996. That first year, 350 people came out for their four-night season. And now? The town's population is more than doubled on event nights, with an average of 1,200 visitors each night.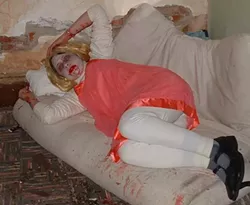 "We see a lot of dates and we see a lot of fathers bringing their 14-year-old sons," Pillers said.
And then there are the college students. Students and student groups come out in droves, with the event earning recognition a few years ago in the Daily Evergreen as something every student should do before graduation.
The entire event takes up around four city blocks. Between buildings, in the downtown area, the streets are lined with vendors and music, along with cider potions, hairy scary hamburgers and sickly sweet treats.
And the event will do more than get your heart racing and your palms sweating. All proceeds from Haunted Palouse go toward different community projects in town; the recently opened Palouse Community Center was funded, in part, through event proceeds.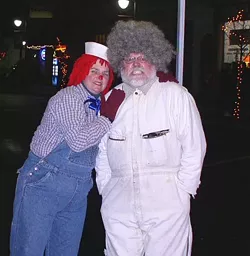 Haunted Palouse 101
Q: Is it scary? A: Yes. We spend many hours planning and scheming to get maximum heart rates, screams and giggles. We gear toward high school and college students, so be prepared. No one younger than 12 is admitted.
Q: If I get scared and can't continue, can I get out? A: Yes, our staff will assist you.
Q: If I get too scared, can I get a refund? A: No, you paid us to scare you. Be happy with prompt service.
Q: If I'm still in line at closing time, will I still get in? A: Absolutely. We quit selling tickets at 10 p.m. but we stay open until everyone who has purchased a ticket has gone through all three venues.
Q: How do I avoid long lines? A: The first weekend tends to be less busy than the second weekend. Getting here early is your best bet for whichever night you attend. But waiting in line is not without its own entertainment.
Q: Is Haunted Palouse in a heated area? A: No. Dress warm and bring appropriate clothing for inclement weather. The waiting area is outdoors. (Source: www.visitpalouse.com)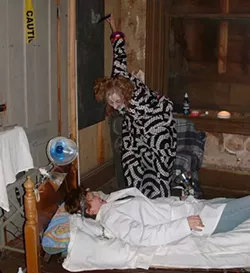 If you go: What: Haunted Palouse When: Friday and Saturday and Oct. 25 and 26. Tickets are sold from 7 to 10 p.m. Where: Downtown Palouse. Tickets sold in the drive-through area of AmericanWest Bank, Palouse Branch. Cost: $15/person. This year a 20 percent discount is offered to groups of 20 or more who come opening weekend; must call in advance (509) 595-1129 or (509) 330-0353. Cash and checks only.