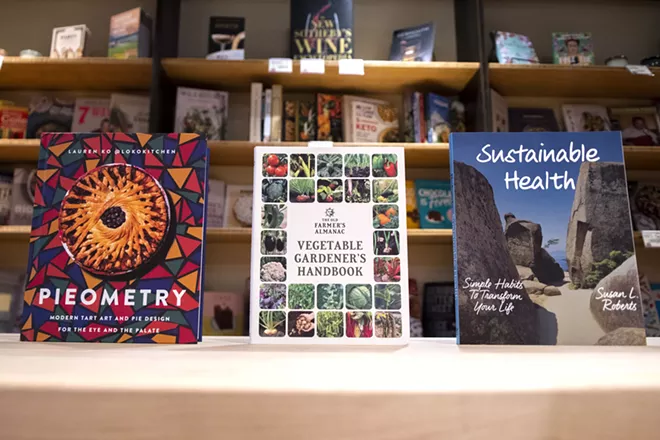 The toilet paper buying frenzy last March, when COVID-19 began to rock everyone's world, set the tone for what many area businesses endured over the past year: A large demand with little supply.
Throughout the pandemic, business owners noticed trends in consumer purchases. Some were expected, like selling out of cleaning and baking supplies at the Moscow Co-Op. Others were not as predictable, like a decrease in adoption rates at Humane Society of the Palouse and an increase in animals taken in. Whether these trends are seen as positive or negative, each business has a story to tell.
B&L Bikes, Pullman
Bryce Erickson, owner of B&L Bikes, witnessed a massive boom in demand for bikes during the pandemic, especially e-bikes. It has been difficult to keep up with the demand. Some products Erickson ordered won't be available until 2023, a 250- to 480-day wait time caused by production shortages, he said.
"As far as consumers having much of a choice on the details of the product, that isn't happening," he said. "You either buy or you don't. There is no most popular item; it's what you can get your hands on."

Erickson experienced some strange situations because of the demand. Several customers drove long distances in search of products, including one who drove to Pullman from southern Utah to find a specific bike.
The bike boom wasn't a surprise, because cycling was one of the few activities people felt safe doing during a time of self-isolation and social distancing, he said.


BookPeople of Moscow
Carol Price, owner and manager of BookPeople, noticed certain genres increased in popularity. Customers purchased cookbooks and books on baking bread, gardening and self-sufficiency. There was also an increased interest in philosophy, spirituality, well-being and self-care, classic literature and anti-racism titles. Customers also steadily purchased what Price calls "beach reads."
"Aka books with a reliably happy ending," she said. "My own reading has tended toward the beach reads this past year, so I am not surprised by that at all. When you're under stress, you need an escape."
She was surprised at customers' loyalty. They learned how to use BookPeople's website on a more in-depth level, and online orders increased immensely when the store was forced to close to in-person shopping for a period of time.
"It was pretty incredible, actually, how the message of the importance of shopping locally seemed to really sink in for the first time during the pandemic," Price said. "People begin to understand how fragile the local economy is and how many local businesses operate on a razor-thin margin. People began to really understand that supporting local businesses actually matters and that even small purchases can make a big difference."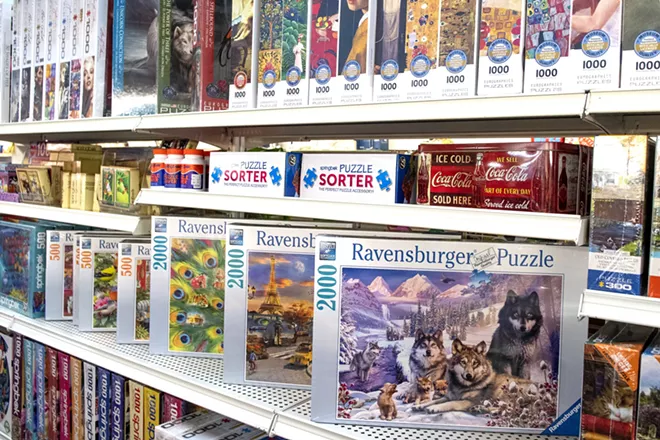 Hodgins Drug and Hobby, Moscow
Hodgins is a joint drug store and toy store, and owner Pam Hays saw an increase in purchases of immunity boost supplements, puzzles, hobby items and science-related toys that parents used to augment homeschool lessons.
Hays also noticed a change in people's willingness to shop in person throughout the pandemic.
"When (the pandemic) first started, people were more hesitant to come in, and it was quite slow," she said. "Like everyone else, we're very conscious about people's safety, as well as our own. Once people knew that, they were more open to coming into the store. We really felt love from the Moscow community and the surrounding areas and have really felt the support from consumers."
Hays hopes those items will continue to sell at the same rate but is unsure what the future holds.
"I wish I had a crystal ball; I really don't know," she said. "We always sell puzzles; we doubled the amount of puzzles we sold last year. Whether or not it will stay strong for the masses, that remains to be seen. All we can do is guess and hope we're right."


Humane Society of the Palouse, Moscow
The Humane Society of the Palouse has a different story. At the beginning of the pandemic, adoption rates decreased and animal intake increased, said Sierah Beeler, shelter director. In addition, the adoption process was challenging because the shelter is small, making social distancing difficult.
"Once we were able to get protocols and everything worked out, we began adoptions by appointment and scheduling things in advance," Beeler said. "We do all paperwork prior to scheduling an appointment, which allows limited contact and transmission."
Adoptions started to pick up in December and are now comparable to previous years, she said.
The shelter's Pet Food Pantry also saw an increase in demand. This program offers free pet food to anyone in Latah County who cannot afford to feed their pets because of financial difficulty. Many pet owners returned on a regular basis, she said.
"We were told by numerous owners that we were the only thing helping them keep their pet during such a struggling time," Beeler said. "Our pet food pantry assisted many pet owners and still is. We are here to help pet owners keep their furry friends, and we will assist them as best as we can."
Hyperspud Sports, Moscow
Heather and Bryan Pettit, owners of Hyperspud Sports, said they saw customers turn to the outdoors in greater numbers. Business was fairly steady throughout the pandemic, bringing in new outdoor enthusiasts, as well as people upgrading their gear. Sales of cross-country skiing equipment and snowshoes increased last winter.
Cross-country skiing exploded nationwide during the pandemic, Heather Pettit said. Downhill skiers branched out and tried cross-country as a way to avoid crowds. Nonskiers took up the sport to escape the isolation of the pandemic and winter.
Hyperspud also saw an increase in customers over the holidays, a pleasant surprise to the couple.
"So many customers told us that they were exclusively shopping local this year because they didn't want to see any of their favorite stores go out of business during the pandemic," Heather Pettit said. "As new owners, that really fills our hearts and takes a lot of potential stress off our shoulders."
Moscow Food Co-Op
Kerry Morsek, store manager at the Moscow Co-Op, witnessed extreme amounts of panic buying last spring involving cleaning and sanitation products and pantry staples like beans, rice and flour, as well as a large demand for baking supplies.
At the same time, customers seem to be paying more attention to where their food is coming from, Morsek said.
"Our produce, cheese and meat departments continue to thrive," she said. "We're proud to offer the highest-quality fresh foods, and customers have been very interested in learning more about our local producers."
In addition, beer and wine sales increased 20 to 30 percent, she said.
Morsek hopes the renewed interest in cooking and baking at home continues, along with an interest in healthy ingredients and high-quality food.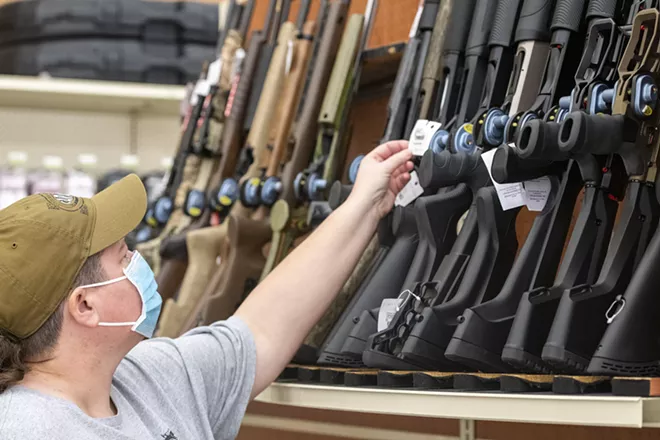 Tri-State Outfitters, Moscow
A boom in demand for outdoor and boating equipment and guns and ammunition was witnessed by Jennifer Laferriere, manager at Tri-State Outfitters.
"I believe it's because people couldn't travel, so they were discovering what is right here in our own backyard of beautiful Idaho," Laferriere said. "We're hoping this leads to returning customers in the future."
The increased demand affected the supply chain, she said. It is difficult to get a consistent stock of product from suppliers when it comes to kayaks, ammunition and certain types of camping equipment. The upside is that customers are consistently returning to look for these products and are making a concerted effort to support local businesses.
"More customers are coming into the store, not just to buy something, but as a social interaction," she said. "They're tired of being cooped up in the house, so they come in, even just to look. The community has rallied to support local businesses because they know it's important to keep those businesses thriving."