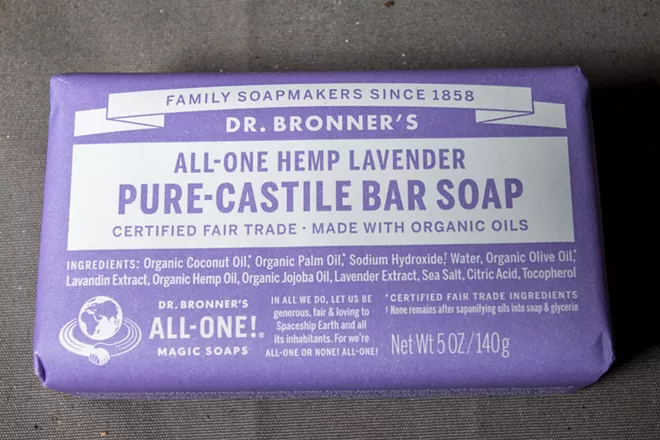 Commentary
The last time I walked along a beach, on the Oregon Coast, the natural debris of kelp, seashells and driftwood was overshadowed by human-created flotsam consisting primarily of plastic.
Much of it had broken down into unidentifiable shards and chunks, but some was still recognizable as bits of bottles, lids and packaging — items most of us use every day.
Recycling isn't the magic bullet some thought it could be. Markets were turned "upside down" by trade restrictions caused by contamination in the recycling stream, according to Washington's Department of Ecology website, "leading to growing piles of recyclables with nowhere to go but the landfill."
Most plastic is not biodegradable, according to the Environmental Protection Agency. But, by making conscious decisions as consumers, we can all take small steps to keep it out of our landfills and oceans.
Here are five products you can buy in the Lewiston-Clarkston Valley to help eliminate plastic from your morning routine:
Hello toothpaste tablets, $10.99, Rite Aid
An innovative development in the toothpaste realm, tablets eliminate the need for a plastic tube. This reusable metal tin contains 60 tablets, or about a month's worth, in "natural peppermint" flavor. To use them, you bite down on a tablet and chew a bit before brushing with a wet toothbrush. Compared to a brand I bought online, these had a better texture, breaking down quickly to create a gentle foam for brushing. This brand's tablets (they also make an "activated charcoal" version available online) are fluoride free.
If you want fluoride: Unpaste Tooth Tabs with fluoride, $9.99, zerowasteoutlet.com
Open Nature bamboo toothbrush, $2.99, Albertsons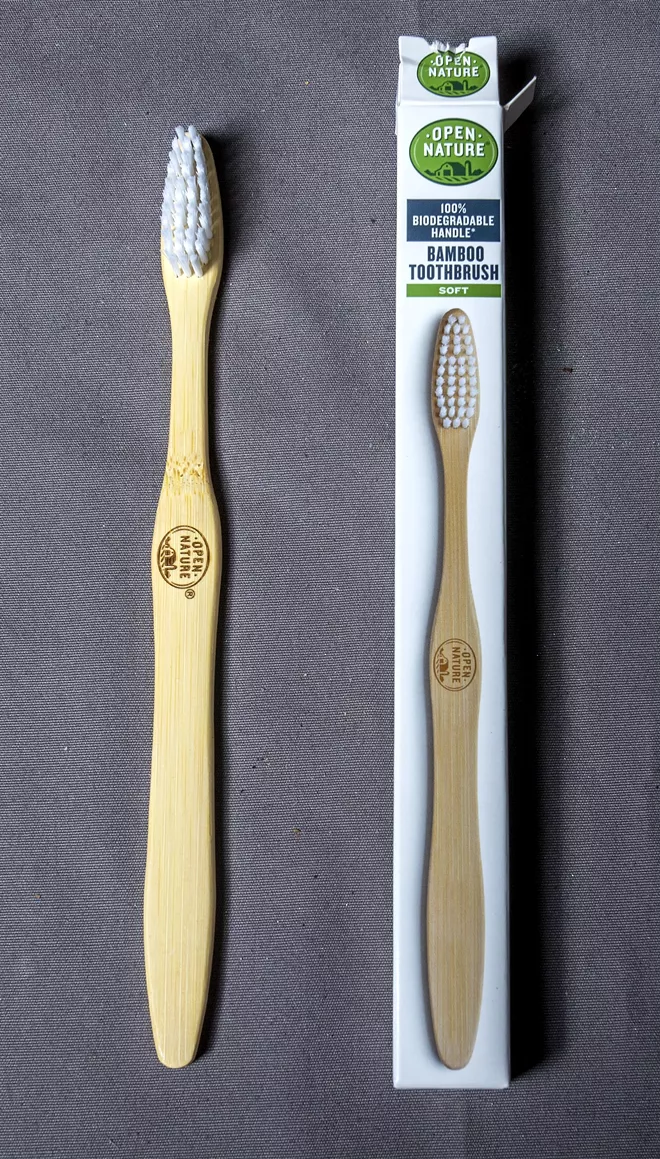 Contemplating the number of plastic toothbrush handles that go into landfills is mind-boggling. Bamboo and other sustainable options are getting a toehold in the market for those who want to break that cycle. This one, available at Albertsons, is affordable and has soft-enough bristles even for those with sensitive gums.
Caveat: The handle is 100 percent "biodegradable" according to the packaging, but you'll need to pull out the nylon bristles before composting or snap off the head and throw it away.
Soapbox argan oil shampoo bar, $9.99, Rite Aid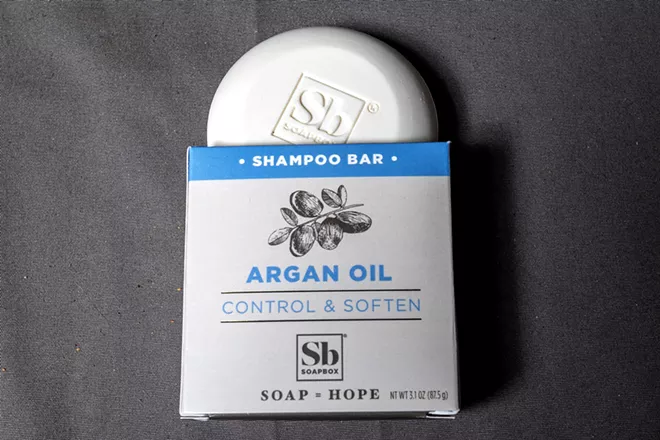 There were three options available on the shelf at Lewiston's store: tea tree, coconut oil and this one, described as good for taming frizz. It lathered well, smelled pleasant and, when used with a bar conditioner I already had in my shower, kept its promise of "soft-to-the-touch hair."
Caveat: The bar inside the box is wrapped in plastic. The company says it's necessary for shipping the product, and "we have reduced our plastic use by 98.9 percent (when compared to a 16-ounce shampoo bottle), and the plastic and box are both 100 percent recyclable."
Locally made option:
Orchard Farm Soap's honeycomb shampoo and body bar, $8, orchardfarmsoap.com, Moscow Food Co-op, Moscow Farmers Market
Dr. Bronner's lavender castile bar soap, $5.29, Rite Aid
What's old is new again, and plastic-conscious consumers are realizing soap doesn't need to come in a pump bottle to be effective or convenient — so it's back to bar soap. This classic, which comes in a variety of scents, produces luxurious, foamy bubbles and is gentle enough for body and face.
Locally made option:
Meadowlark Heritage Farm's citrus basil goat milk soap, $7, meadowlarkheritagefarm.com; farm store, 4716 Lenville Road, Moscow; Moscow Farmers Market
Tom's of Maine natural strength coconut lavender deodorant, $7.49, Rite Aid
Once you've used deodorant in a paper tube, it's hard to imagine why we've been using plastic all this time. From a packaging standpoint, it just works. Whether this particular deodorant will work for you depends on what you're looking for. It's not an antiperspirant, so it won't prevent sweating. But it neutralizes odor well enough for most day-to-day use, and the coconut lavender scent is delightful (Rite Aid also carries the "fresh powder" scent in this range; others are available online).