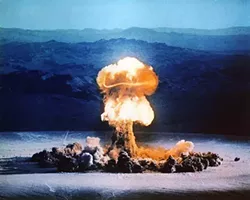 "Radiation!"
Invisible, tasteless, and odorless but sounds on certain tongues like deep distrust of equations and lab coats like panic wrapped for snacking like the girl in the Godzilla movies who can't run and scream at the same time who chooses screaming
— Kathleen Flenniken From "Plume," (University of Washington Press, 2012)
Before she was the 2013 Washington State Poet Laureate, Kathleen Flenniken was a child of plutonium.
She grew up in Richland, Wash., next to the Hanford Nuclear Reservation, where every father she knew disappeared each day to "fuel the bomb," she would later write. She worked three years there as a civil engineer and hydrologist. In the 1980s, declassified documents revealed decades of environmental contamination and deception at the facility, contradicting a lifetime of official assurances. At the same time, a childhood friend's father was dying of radiation-induced illness. She processed it all 20 years later in her 2012 poetry collection, "Plume," which she calls part memoir, part history lesson, part cautionary tale, part quest.
Now living in Seattle, Flenniken is the president of Floating Bridge Press, a nonprofit organization dedicated to publishing Washington poets. She'll read from her work and visit with aspiring adult poets from 7 to 9 p.m. Monday, Oct. 7, at the Asotin County Library, 417 Sycamore St., Clarkston. A youth program is 5 to 6:30 p.m. Tuesday, Oct. 8. Attendees are welcome to bring their own poetry to share with Flenniken and others at the free events.