Decades before televised musical contests, a local battle of the bands was the major mechanism for musical democracy: Set up, play your songs and let the audience decide.
In the early 1980s, the Houston, Texas-based record label Starstream and the Miller Beer company worked with radio stations to create a nationwide battle of the bands called Rock to Riches. Winners of its early contests included Jon Bon Jovi (listed at the time as "John Bongiovi") and Twisted Sister. Most stations with a Rock to Riches album were in major metro areas: New York, Los Angeles, Seattle, New Orleans. The third year of Rock to Riches, a much smaller town graced the list: Lewiston.
It all started with one young man and a musical vision. Steve MacKelvie grew up in the radio business.
"My first two jobs were the official weed puller in (then station owner) Don Thomas' fruit and vegetable patch out behind KRLC," MacKelvie said. "Then my first real job was when they hired me as the janitor of the radio station when I was 14. I would ride my bike down after school and clean and hang out with the DJs."
MacKelvie's father, Pat, later became the owner of KRLC-AM. This was the late '70's and Lewiston, at the time, had no dedicated rock station, according to MacKelvie. Fresh from a short stint at the University of Oregon in Eugene, he saw a void in the airwaves. In late 1976, he began encouraging his father to put an FM rock station on the air.
"It was only through some persuasion of several sales people who promised my dad that they could sell commercials on it (that we convinced him to create the station)," MacKelvie said.
The process was arduous, he said. After much back and forth with the federal powers that be, KMOK-FM signed on the air March 5, 1983. MacKelvie became the station's general manager. A few months after the station hit the airwaves, he read about the Rock to Riches competition and set out to create an entry for the Quad Cities of Lewiston, Clarkston, Moscow and Pullman.
MacKelvie knew the Quad Cities held no name recognition with the contest's promoters.
"If I call them and say, I'm from Lewiston, Idaho, they're gonna go, 'Where?' So I went to the local beer distributor, P&F Distributor, and I asked him if he would write a letter supporting KMOK in our efforts to get a Rock to Riches in the Valley, and he said sure. He wrote a nice paragraph, and I included an on-air letterhead and sent it off to Starstream."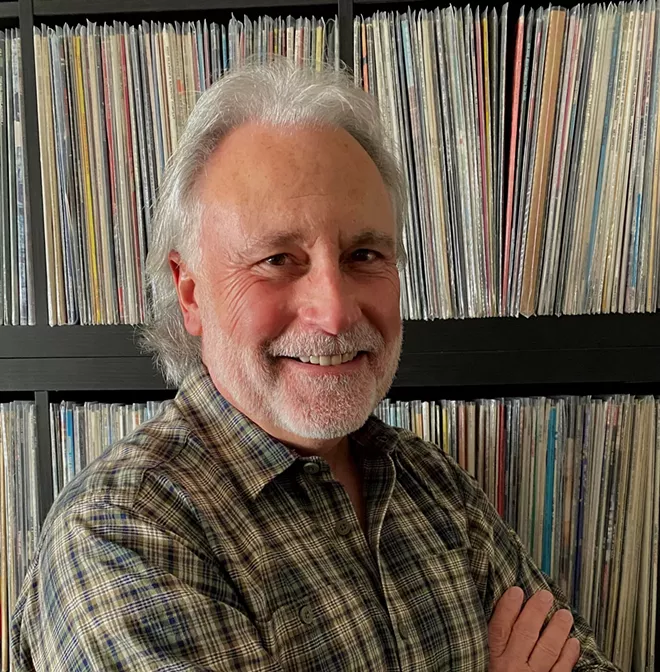 MacKelvie soon received word that KMOK was accepted into the competition. It was the smallest station in the nation to get a "Rock to Riches" album and the pressure was on to get the word out to musicians.
"The Starstream guy says, unless you get 25 submissions or more, forget it," MacKelvie said.
The competition worked like this: Bands would submit a tape containing a single song to the local station. These songs would be reviewed, and eight artists would be chosen to be featured on an album. The album would be pressed to vinyl (the dominant music distribution format in 1983) and sold locally. Each album included a ballot with the artists' names, which could be filled out and mailed to Starstream Records. The three bands with the most votes would perform in a regional battle of the bands.
According to the liner notes on the "KMOK-FM Rock to Riches" album, winners would play that concert in the Quad Cities and a regional champion would be selected. Regional champions would join a pool of national finalists. Ultimately, the contest would, "land them the grand prize for $25,000 in Rickenbacker musical equipment and, most importantly, a national recording contract with a major record label," according to the notes.
KMOK began running a 60-second ad seeking submissions for the album. MacKelvie also put the word out to musicians through an area musician's union.
"We heard about the album project from ads on KMOK and from several DJs at the station, who we knew," recalled Bob Thorson, then a member of Lewiston band Striker (later renamed the Zekes).
Thorson's band scrambled to create its first recording by the entry deadline, which was only a couple of months away.
The process moved quickly to select artists by the end of summer 1983. Ultimately, MacKelvie said about 35 artists submitted songs. Music was chosen for the album by a small group of local people with a connection to music, but no conflicts of interest.
Soon artists began receiving word from KMOK that they'd made the album.
"Steve MacKelvie stopped by Budget Tapes and Records, where I was working at the time, to deliver the news that we had been selected," Thorson said.
Once eight artists were chosen, each band submitted a final version of its song; the album was mastered and the records pressed. Thorson's band, Striker, submitted "Be My Test Tube Baby," a tongue-in-cheek, power pop song that begins with a blues-rock shuffle and quickly shifts gears to an upbeat tempo with the chorus, "Be my, be my, be my, test tube baby."
Albums were sold at area businesses including the Billiard Den, Discount Stereo and Michael's Camera. Businesses had to buy an advertising package to be able to sell the album, which came packaged with discount coupons for participating stores. Two hundred copies, the minimum number that could be pressed, were ordered and distributed.
The artwork for the album's cover, a distinctly regional image of a naked woman riding an aquatic snake or dragon of some kind near the confluence of the Snake and Clearwater rivers, had also been chosen by ballot. KMOK ran ads soliciting album art from local artists.
"(The artwork selection) was really not as structured; Starstream didn't care how you did that," recalled MacKelvie. "We had it narrowed down to the four to five (potential covers displayed) in an art shop in downtown Lewiston and had people come down and submit a little voting card."
Lewiston resident James Leslie's image won, but not without controversy, because of the nudity.
"It's still a very conservative community and it was more so in 1983," MacKelvie said.
The artwork stayed, he said, because it was within Starstream's parameters and he had the approval of the local Miller Beer distributor. Besides, it was a rock 'n' roll album.
MacKelvie doesn't know what happened to Leslie's original painting. He tried to buy it, but Leslie refused any payment, asking only for a copy of the album.
"In all the special thanks on the liner notes, I didn't thank him and that's really sad. I regret that," MacKelvie said.
Striker would ultimately be one of three finalists and play in the local concert at Washington State University's Beasley Coliseum. Eclipse and La Baliene were the other two. For the concert, the venue manager roped off one end of the coliseum to create a theater-like section with 600-700 seats, since they did not anticipate filling all 12,000.
Ever the businessman, MacKelvie was initially concerned at the turnout.
"In my dreams I wanted it to be sold out and it wasn't, so that was disturbing to me," he said. "I do remember being thrilled with the folks that were there and there were several hundred people for sure. They were very enthusiastic."
Thorson has a similar memory of the audience.
"I remember being surprised and appreciative that so many of our friends and fans made the trip for the show," he said. "My favorite memory of the evening was when several sorority girls from the University of Idaho approached us after the show and offered us $500 to play their next house party. We readily accepted and later joked that we would have played the gig for free."
Ultimately, Eclipse won the showcase, as selected by a panel of judges assembled by MacKelvie. There is no record of Eclipse playing any kind of regional finals, as indicated in the album's liner notes. No one interviewed recalls this happening, either.
During the album's production, MacKelvie's father sold his radio stations. Rather than stick around, MacKelvie returned to Oregon and, within a decade, was working in advertising for Paul Allen and the Portland Trail Blazers. Today he lives in Bend, Ore. Before leaving, his final forays in music in Lewiston were promoting a couple of concerts: a show by Ronnie Milsap at the Nez Perce County Fairgrounds and a performance by the metal band RAIL at downtown Lewiston's legendary, psychedelic, teen rock club, Casey's. It was the last concert ever to take place at Casey's.
Several musicians listed on the album pursued careers in music and entertainment. Tim Oleson writes, records and performs music in the solo acoustic stylings of his youth. Crosstown Rivals member Tom Sorem is a professional animator in the Los Angeles area who writes and performs his own music. Grady Shawver of Shawver and Young spent years in Los Angeles as a session guitarist and record studio operator. He lives in Seattle and composed the score for "Blaze and the Monster Machines" on Nickelodeon, in addition to working as a session guitarist. Thorson kept the Zekes alive for many years, performing one-off gigs for concerts he promoted in Lewiston, opening for the likes of Kansas and Blue Oyster Cult. Thorson is also creator and manager of the Lewis-Clark Valley Loggers football team.
At a time when music distribution took a good deal more work than it does now, the album gave bands a chance to extend their reach, said Hal Logan, who played drums for the band Crosstown Rivals.
"(It was) around the same time that MTV was doing the 'Basement Tapes' thing, so it felt like a local version of that," said Logan, who lives and works as a musician in Portland playing in bands and giving music lessons. "It was cool that you'd be somewhere and someone would have heard of your band because they had a copy of the record. Years later, you'd hear somebody say, I remember the Crosstown Rivals. And that would be the connection. It allows your band to live on past your club dates."
"KMOK-FM Rock to Riches" tracklist
This Side (Side 1)
"Get the Feelin'"- Sleeper

"The Loner"- Shawver & Young

"Changing Faces"- French

"Rockin' the Midnight Blues"- Eclipse
That Side (Side 2)
"Working' for MCG"- Wild Debbies

"Electric Eye"- La Baleine

"Writing to My Girlfriend"- Crosstown Rivals

"Be My Test Tube Baby"- Striker

"I'm Only in Love in My Sleep"- Tim Oleson