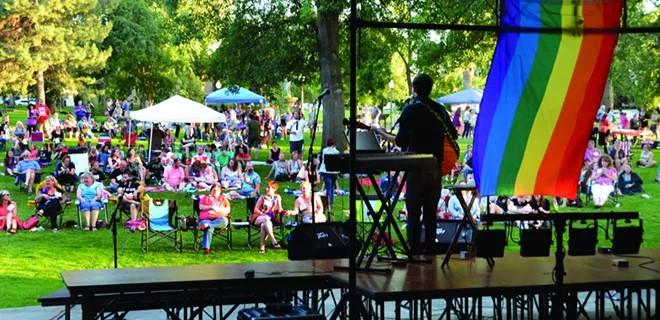 Celebrate Love in the LCV is the Lewiston-Clarkston Valley's only pride event, but it's more than just a pride event, said organizer Myndie VanHorn. It's about building and reinforcing an all-inclusive community.
"We want everyone to feel welcome," VanHorn said.
Pride events unite lesbian, gay, bisexual, transgender and questioning people and their allies (LGBTQA). Now in its third year, Celebrate Love has a festival-like atmosphere with live music, kids activities, art, face painters, speakers, food, vendors and business and community groups.
At Saturday's festival at Pioneer Park, a wedding officiant will offer services for free at one of the booths. At least two couples are planning to marry there, VanHorn said. If people want the state of Idaho to legally recognize the union, they'll need to obtain a marriage license from the county courthouse by Friday. However, the officiant will also offer commitment ceremonies.
VanHorn organized the first Celebrate Love festival in response to the June 2016 mass shooting that killed 49 people and wounded 53 at a gay nightclub in Orlando, Fla.. It was the deadliest incident of gun violence against LGBT people in U.S. history.
Although the inaugural festival was hastily organized in a week, more than 500 people showed up, she said.
"That first year, bringing people together for the first time, to be able to look around and see how large that community is, I think it did a lot for people," said VanHorn, an artist and owner of Fourth Wall Gallery and Tattoo in Lewiston. "In the Valley you feel like you have these isolated pockets of people who support each other. It brought together groups of people who didn't know each other before the event."
A 2018 Pride Prom Freaker's Ball is part of this year's festivities. The ball for ages 21 and up starts at 9 p.m. Friday at Hogan's Pub. People are invited to wear their favorite ballroom outfit with a touch of freak since it's Friday the 13th. Gregory Raye will DJ and a King and Queen will be crowned. The ball is free with donations welcome for the DJ.
"The Pride Prom is about being able to be out with your partner, be included, dress up and not be afraid to show affection," VanHorn said.
Twenty percent of proceeds from this year's festival will be donated to the Second Judicial District CASA Program to support the work of local court-appointed advocates for abused or neglected children. Musicians performing Saturday include Redheaded Stepchild, Kevin Black, Brian Grimm, Brothers, Ricky Deschamp, Struggle Club, Aaron Cerutti and Local Sports Team.
IF YOU GO

WHAT: Celebrate Love in the LCV
WHEN: 4 to 9 p.m. Saturday, July 14
WHERE: Pioneer Park, Lewiston
COST: Free
OF NOTE: A free 2018 Pride Prom for ages 21 and up begins at 9 p.m. Friday, July 13, at Hogan's Pub, 906 Sixth St., Clarkston.
The state of LGBT rights in Idaho
Although it's been four years since same-sex marriage was legalized in Idaho, the state legislature has done nothing to protect LGBT people from discrimination when it comes to employment and housing.
Same-sex marriage began in October 2014 in Idaho, after the courts deemed the state's ban on the unions unconstitutional. However, Idaho does not have a statewide law that expressly prohibits discrimination based on sexual orientation or gender identity when it comes to private or public employment, housing or public accomodations. That means that a person in Idaho can be fired or evicted for being gay.
The Idaho Human Rights Act bans discrimination in employment, housing and public accommodations on the basis of race, gender, religion, age or disability. For more than a decade the state's Republican-controlled legislature has consistently blocked and denied efforts to add the words "sexual orientation" or "gender identity" to the act.
Moscow, Lewiston and several other Idaho cities have adopted resolutions that prevent discrimination along these lines (Lewiston's and others include religious exemptions) but vast swathes of rural residents are unprotected.