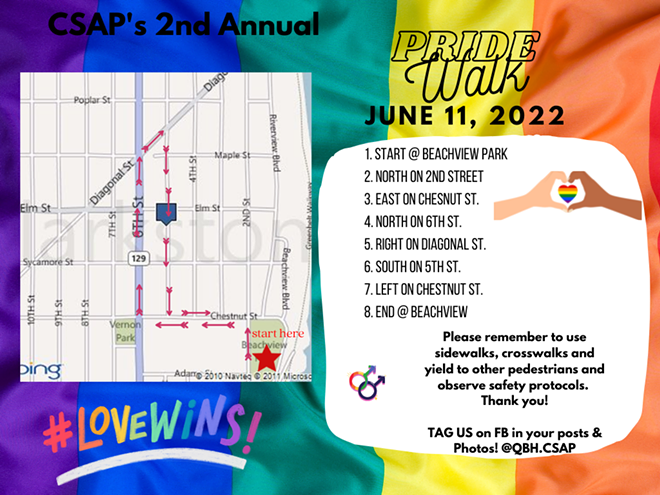 Editor's note: This is the second Q&A in our series for Pride Month highlighting groups, individuals and events supporting area LGBTQ+ individuals. Heather Cochrell (she/her/hers), manager for the Community Sexual Assault Program at Quality Behavioral Health in Clarkston, answered questions via email about the Pride in the Park event scheduled for 10 a.m. to 2 p.m. Saturday, June 11, at Clarkston's Beachview Park. More information is available on the QBH Facebook page at facebook.com/QBH.CSAP.

Inland 360: How did Pride in the Park get started?
Heather Cochrell: Our first Pride in the Park event was last year, 2021. The event got its start in recognizing the need in the community and the desire to bring everyone together in celebration and connection. The goal was to spread love and show support for LGBTQ+ folks in our communities, who are marginalized in many different ways. LBGTQ+ individuals experience disproportionate levels of sexual violence and discrimination. Love, acceptance and visibility can create a safe platform to work toward changing those statistics. The Community Sexual Assault Program seeks to eliminate barriers and to empower those impacted by sexual violence. The foundation of our services comes from recognizing and dismantling systems of oppression. Celebrating Pride makes good sense.


360: Why is it important to celebrate Pride Month?
HC: In celebrating Pride month, it is important to recognize and remember how Pride started and not to get lost in the rainbow commercialism that has developed over the years. Pride Month originated from the Stonewall Riots in 1969. Queer folks were tired of being violated and attacked for simply existing and decided to fight back for civil liberties and freedoms. Pride is about celebrating ALL love and is also about advocating and fighting for equal civil rights for all. It is also extremely important to acknowledge the significantly positive impact that the trans community has had on fighting for equal rights for all LGBTQ+ people.


360: What activities are planned for the Clarkston event? Is it family-friendly?
HC: The activities planned include a Pride Walk (see map), a face-painting booth, a Mom Hugs Booth, a creativity center where you can create signs or Pride swag, some fun giveaways and yard games for the whole family to participate in. This event is open to all ages for those who are LGBTQ+ individuals or allies.


360: What services does the Community Sexual Assault Program offer, in general and for LGBTQ+ people?
HC: The Community Sexual Assault Program at Quality Behavioral Health provides free and confidential services for victims and survivors of sexual assault and their loved ones. We provide advocacy services and specialized therapy services, provide community awareness regarding sexual violence in our communities and also provide prevention and training services to school-aged youth, to businesses and to other organizations. We have a free, confidential crisis line for crisis support services and have trained CSAP advocates available 24 hours a day, seven days a week. We can be reached at (509) 769-2050 or after hours at (800) 970-3785. We focus primarily on Asotin and Garfield counties, but we will never turn anyone away who reaches out to us for services. The CSAP program is a safe zone for all people.


360: Anything else you'd like to make sure people know?
HC: The Community Sexual Assault Program at Quality Behavioral Health's mission is to provide free and culturally competent services to survivors of sexual assault and their families in order to empower them in their healing process. We resolve to promote social change through prevention and educational activities in order to increase community awareness and decrease acts of sexual violence.