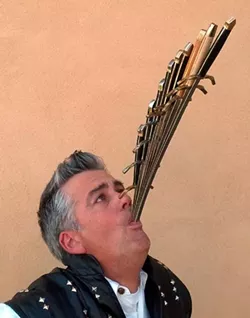 Sideshow artist Brad Byers is scheduled to appear Wednesday, July 18 on "America's Got Talent" on NBC in the show's second round of Las Vegas auditions.
Byers made it through the first round of auditions June 11. Tonight the judges will finish choosing their favorite Las Vegas auditions. The rules are that acts will be sent straight to the finals in Radio City Music Hall, they'll be sent home immediately, or they'll be asked to audition one more time in an attempt to sway the judges' decision.
Brad Byers swallowed nine swords at the same time in his June 11 audition on the show. During the act he was scanned with an x-ray machine to show it wasn't a trick
Howie Mandel said danger acts are a staple of entertainment and called Byers' act awesome. Mel B said the act scared her and she didn't want to see it again, giving him a No. Heidi Klum gave him a yes, although she was also grossed out.
Byers works for the University of Idaho in the Campus Surplus division. He was born and raised in Moscow and has taken his sideshow act around the world. He lives in Pullman. Season 8 of "America's Got Talent " will conclude on Sept. 18.
Guinness World Records calls Byers "the Human Tool Box." He's performed in 20 countries; on national TV for David Letterman; for the History Channel series "Stan Lee's Superhumans;" and in the past on "America's Got Talent." A picture of him swallowing swords became an official postage stamp in Grenada. He earned the name the Human Tool Box because of his ability to insert tools into his body through his nasal cavities. One of his prized acts involves a power drill.
Subscribers to the Lewiston Tribune can read an interview with Byers at: http://bit.ly/19ijQwI
Here is Byers' initial audition:
[youtube]http://www.youtube.com/watch?v=CH-UhkLOIqQ[/youtube]