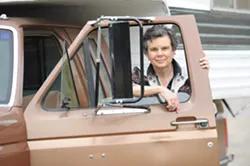 "Planet Rock Doc: Nuggets from Explorations of the Natural World" by Elsa Kirsten Peters WSU Press 198 pages, $22.95
While she is a curious geologist Elsa Kirsten Peters writes about far more than rocks in her nationally syndicated column.
Her new book, "Planet Rock Doc," collects some of her favorite columns and some new ones exploring the world of science, past and present, with humor, personal anecdotes and in a way the general public can easily understand.
Within Peters' two-page articles one might discover the anatomy of a tsunami, the importance of knowing an apple's genome, and how individuals can help reverse the greenhouse effect.
Peters investigates popular topics, busting established myths. For example, if your goal is to conserve energy it's probably better to buy eggs delivered to your local supermarket by 18-wheeler than to buy them at a farmers market where they were delivered by a less fuel-efficient pickup truck, according to expert math.
Chapters in the book include paleontology; energy, engines and automobiles; food and agriculture; climate; human health; physics, chemistry, math, astronomy; and others.
Peters earned a doctorate degree from the Department of Earth and Planetary Sciences at Harvard University. She is the director of the Office of Major Grant Development for the Agricultural Research Center at Washington State University.