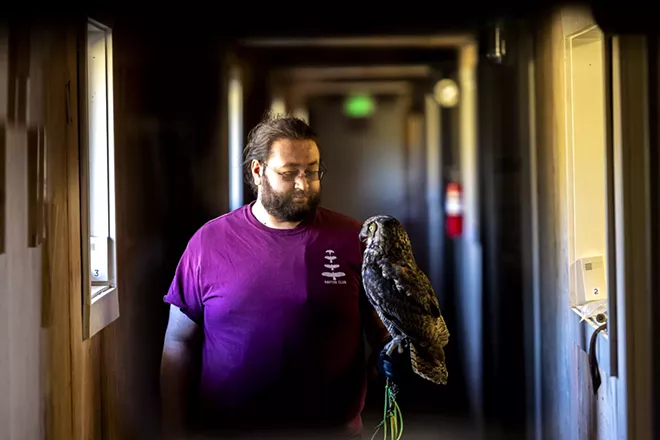 Throwing apple cores or orange peels out your car window because you figure they're "natural" and will decompose isn't just littering — it can be a death sentence for raptors like hawks and eagles.
That's one of the lessons
Washington State University Raptor Club
members share with audiences at community presentations, the next of which is from noon to 1 p.m. Saturday, May 27, at the Nez Perce National Historical Park Visitor Center, 39063 U.S. Highway 95, Lapwai.
Sprite, a great horned owl, and Brenda, a dark morph red-tailed hawk, are scheduled to be there with their handlers, said Sydney Schafer, a program manager for the Pullman-based group. Club members will share the animals' stories, explaining how they came to reside at WSU's Stauber Raptor Facility.
They'll also go into raptor conservation, including how food remnants tossed along roads contribute to car strikes that kill and injure many birds.
"Littering attracts prey species," Schafer explained.
Limiting pesticide use can save raptors, too, since rodents that consume the harmful chemicals are food for the birds, often resulting in poisoning.
Curious audience members will have a chance to learn about other aspects of the raptors and the club as well.
"We always like to give plenty of opportunities for questions, too," Schafer said.