"In the Kingdom of Men"
by Kim Barnes
Knopf
336 pages, $24.95
Kim Barnes was nominated for a Pulitzer Prize for her memoir about growing up in a fundamentalist Idaho family. Her new novel, "In the Kingdom of Men," touches on that past and is making must-read lists across the country from Vogue magazine to the Christian Science Monitor.
A Publisher's Weekly review called the novel, which follows a young American couple to the oil fields of Saudi Arabia, "An immersive and bracing exploration of one woman's search for freedom amid repression..."
A creative writing professor at the University of Idaho, Barnes will be the guest speaker at 7 tonight at the 1912 Center for the Moscow Friends of the Library annual meeting. She will talk about and read from her book, which will be available for purchase and signing. Admission is free.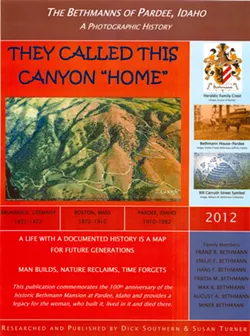 "They Called This Canyon Home, the Bethmanns of Pardee, Idaho"
by Dick Southern and Susan Turner
self-published
206 pages
The huge Bethmann home and the small settlement of Pardee, Idaho, no longer exist but rumors about the family that once lived there still resound. The Ilo-Vollmer Historical Society will release the book, "They Called this Canyon Home, the Bethmanns of Pardee, Idaho," from 1-4 p.m. Sunday at Craigmont Community Hall.
The non-fiction book is a photographic history of the Bethmann family who lived at Pardee, near Greer, in the early 1900s. The book is a collection of maps, articles, photographs and letters. The family was said to be of German nobility and Emilie Bethmann was credited with founding the kindergarten movement in Boston and Washington, D.C. She and her husband were friends with President Grover Cleveland and his wife. Her husband had died by the time she came west and constructed the Red Gates ranch at Pardee.
The book was written by historical society member Dick Southern, who lives near Craigmont, and Susan Turner, who grew up on an Asotin County ranch and now lives in Spokane. Southern was recognized with the Idaho State Historical Society's Esto Perpetua Award in 2011 for contributions to regional historic preservation.
The book is available in a comb-bound edition for $37.10. There are 45 limited first edition hard-cover copies available for $47.70. Shipping and handling is $4.50 per book. They can be ordered by writing Dick Southern, 1018 Trautman Road, Craigmont, ID 83523, or emailing col_craig57@yahoo.com.
"Mountain Mayhem" by Gary Bond self-published 157 pages, $15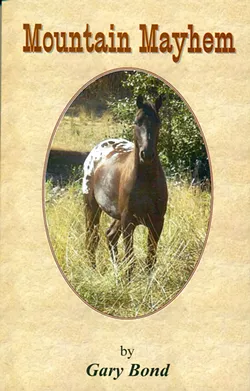 Two unlikely friends bond over adventure and hardship in 1870s Idaho and Montana in "Mountain Mayhem," a novel by Gary Bond of Winchester.
The self-published historical fiction book is the first for Bond, 70, a retired forester who was born in Lenore and raised on the Nez Perce Reservation. Bond's friendships with tribal members inspired him to write a book about the two friends, Amos, a white man, and John Two Bears, who was given his first name by missionaries. The book also has a variety of real historical characters.
Bond writes that when he was a boy a tribal elder taught him some valuable lessons about identifying and preparing traditional native foods and herbs. Nez Perce friends helped him with pronunciation of native words and other details for the book.
Bond will sign copies of the book from 11 a.m. to 1 p.m. Saturday at the Winchester Library and 11 a.m. to 1 p.m. Nov. 10 at And Books Too in Clarkston.
The book is $15. It can also be ordered by contacting the author at 420 Algoma St., Winchester, ID 83555.