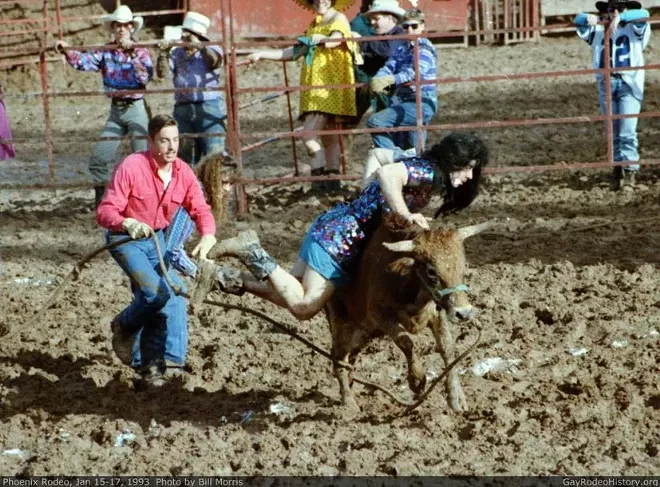 by JAMIE FLATHERS
for Inland 360
Rebecca Scofield is fascinated by the idea of authenticity. What does it mean to belong to a place, or to be authentically from it, or in it? The 33-year-old assistant professor of American history at the University of Idaho, who hails from the small town of Emmett, Idaho, is trying to answer these questions through research on gay rodeo. She is the principal investigator on the Gay Rodeo Oral History Project, which won a Whiting Foundation Public Engagement Fellowship, and her forthcoming book, "Outriders: Rodeo at the Fringes of the American West," examines how marginalized populations have used rodeo to lay claim to certain kinds of identities.
Tuesday she'll speak about the imagery, experiences and politics of gay rodeo at the University of Idaho Library. She talked to 360 beforehand about her complicated relationship with rural Idaho and the wild kindness of the gay rodeo community.
360: For readers who don't know, what exactly is gay rodeo, and how did it come about?
RS: The first gay rodeo was held in 1975 as a fundraiser for the Imperial Court System (a gay organization) in Reno, Nev. That event, the National Reno Gay Rodeo, became so popular that huge contingents came to participate every year. In 1985, the International Gay Rodeo Association was created, and for about the next 10 years, they grew at an astronomical pace, in part because it was coinciding with a masculinity crisis in America at large and in the gay community — this hypermasculinity that pushed back against the assumed effeminacy of gay men.
It's a safe space. To be clear, you don't have to be gay to rodeo at the gay rodeo; you just can't be discriminatory. Mostly, the participants are just looking for a place to be who they are. Under the problematic aspects of the rodeo performance — and they do exist — is this place where people can be the kind of messy humans they are, and that's a welcome reprieve. For me, it's such a welcoming space, where you feel like almost anyone could belong. Unless you're a jerk. Then you shouldn't come.
360: What makes gay rodeo gay?
RS: The events that distinguish a gay rodeo from a mainstream rodeo are what's called the "camp events," which are modeled on local events that happened at rodeos through the 20th century but have been changed to fit the gay rodeo's needs. There's goat-dressing, in which you put a pair of white brief underwear on a goat as fast as you can. You should YouTube it. Then there's steer-decorating, where you try to tie a ribbon on a steer's tail. Then there's wild drag race, which is a team event — all camp events are team, all performed on foot, which means they're more accessible than other rodeo events — and includes a male contestant, a female contestant, and a person "in drag" who has to mount a steer and ride it across a line.
https://www.youtube.com/watch?v=fITg6i05iYg
360: Tell us about your oral history project. How did that come about, and what do you hope it will accomplish?
RS: When I found out that the international association existed and had just donated an archive to the Autry Museum of the American West, I was thrilled. I was like, "This is a new avenue to talk about these notions of toxic masculinity, of the things that drove my own mother insane." She ran a ranch in our town for 20 years while I was growing up, and yet everyone insisted that one of her brothers must own it. For me, it was a drive to find out how this population of people navigated those deeply-ingrained ideas about what it meant to work with stock, what it meant to be in rodeo, what it meant to be a cowboy. What I found was this deep, deep sense of humanity, and that's what I try to capture in the oral histories.
360: Does your study of rural LGBTQ communities give you hope for their future?
RS: It's obviously a highly personal project as well. I grew up with people in Emmett (Idaho) who don't always feel like they can go back; they don't always feel safe, and that is distressing. I do feel like it is very hopeful, not only my work with the association but my work with students. There are people who are unwilling to shut up and go away. They're saying, "We belong here. Not only do we belong here, we belong in the mythology." As problematic as that can be sometimes, it's also very positive in terms of demanding belonging and opening those conversations.
A lot of what I write about gay rodeo is that it can be a messy place. What happens is that these debates about who does and doesn't belong get ripped open, like an ugly wound. That's messy and it doesn't always work out well, but it gives me hope for a place that my kids can grow up in, being whoever they are and knowing that they should not be forced to flee to places that they do not belong, that they should have as much right to their home place as anyone else. That comes with a lot of baggage, but it makes me feel hopeful for a future in which those are conversations that we can have, in all of their painful messiness.
IF YOU GO
WHAT: Rebecca Scofield on the gay rodeo
WHEN: 4:30 p.m. Tuesday, April 30
WHERE: University of Idaho Library, second floor, Moscow
COST: Free
OF NOTE: The talk concludes the exhibit "Blake Little: Photographs from the Gay Rodeo," presented by the Latah County Historical Society and University of Idaho Library.