When Micheal Keene stepped into the role of Sky Masterson in "Guys and Dolls," he was motivated by seeing his brother perform the same part.

His brother, Ben Keene, was in a Lewiston High School production of "Guys and Dolls" in 1995. For 7-year-old Micheal Keene, it was the first theater show he had ever seen. At first, he didn't want to go to the play because he thought he was going to be bored. He wasn't.


"When you first see the magic of the stage it's eye-opening and it really hit me for sure," Micheal Keene said.
Ben Keene joined the Navy after high school. In 1996, while serving on the East Coast, he died in a car accident in the process of changing a tire on the side of the road.


"It was a big, pivotal moment in all of our lives as a family," Keene said.


Since then, it has been Keene's dream to share the stage with his brother by playing the same role of Sky Masterson in "Guys and Dolls."


Keene didn't do the play while at Lewiston High School, where it is a frequent production. In fact, it was performed so often at the high school the Lewiston Civic Theatre chose to forgo the popular musical.


Keene found out from a castmate in the civic theater's production of "Cinderella" that the Regional Theatre of the Palouse was doing "Guys and Dolls."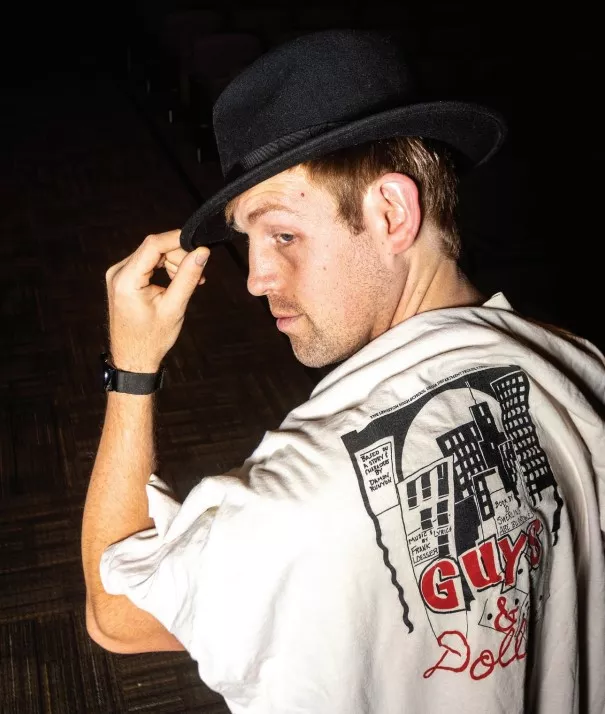 "That pretty much sealed the deal for me," Keene said. "I knew I was going to have to audition for that show."


Doing the audition for the Regional Theatre of the Palouse rather than the Lewiston Civic Theatre was more comfortable for Keene.


"If the Lewiston Civic Theatre did do 'Guys and Dolls,' I would feel awkward auditioning for it because, well, they know my baggage. They kinda know why I want to do it so much," Keene said. "But it was kinda nice auditioning for a different venue because I didn't tell them anything. They had no idea at all. I can say I've gotten this role on my own grounds instead of adding in any emotional impact or influence."


Keene auditioned for Sky Masterson and a few other roles because he just wanted to be in the show.


"It really means a lot to me," he said about getting the Masterson part. "Once that cast list came out and (I) saw I got that role, it was an emotional moment."


Keene calls the show a classic musical with dance numbers and heavy-hitting songs. It's a favorite of many Broadway fans, but for him it has that extra connection with his brother.


"I think one of the biggest reasons 'Guys and Dolls' has had that impact on me is because he passed away. It made me feel like that show was something I would love to do and have a special moment," Keene said. "He's always been my biggest role model growing up. He was my oldest brother."


Keene has a VHS recording of his brother's "Guys and Dolls" production, but he was more inspired by how Ben Keene carried himself offstage.


"He was always a person who was kind to everybody; everybody loved him," he said.
"He was one of the most amazing people – just bringing that energy to the stage. Just trying to be more like him in a way."


Masterson
is one of the lead parts in the play. Gambler Nathan Detroit needs $1,000 for an illegal craps game, but doesn't have the money. So he bets
Masterson
that he can't get a date with Sarah Brown, a mission worker.

Keene said the role fit his brother, Ben, who had lots of charisma.


"In the world of theater, you have roles that you're better suited to based on your type of character acting or your personality. I still feel Ben was definitely a Sky Masterson, and I've always felt I was more of a – different character in the show," Keene said. "I feel like it's a little more of a challenge for me to portray his character. He's a lot more sweet-talking, smooth, which is definitely more Ben than me. So it's a challenge in that sense, but it makes it kinda fun."


With opening day tonight, Oct. 20, Keene said he'll take some time alone before the show to prepare for the emotions that come with the role.


"I've come to learn that nerves are a good thing," he said. "It's one of those things where you gotta use the nerves to actually perform. In a way, it helps everything out, (you) turn it into fuel."


The play is one on his Broadway bucket list.


"I call it my five-finger rule. I've always had five shows I've always wanted to do," Keene said.


"Guys and Dolls" is now knocked off the list, along with "Mary Poppins." Next on the to-do list are "Cabaret," "White Christmas" and, ironically, "Little Shop of Horrors," which the Lewiston Civic Theatre is performing at the same time as "Guys and Dolls."
"I was like, 'Are you kidding me?' " Keene said, when he found out the two shows were being performed at the same time. He opted to audition for "Guys and Dolls," which took precedence on his list.


After the play finishes, he's looking forward to taking a "breather" from commuting to Pullman for rehearsals and performances.


"Knowing me, that'll be a very short breath, then there's going to be another show," Keene said.
Brewster (she/her) may be contacted at kbrewster@lmtribune.com or at (208) 848-2297.
IF YOU GO
WHAT: "Guys and Dolls."
WHEN: 7:30 p.m. Oct. 20-23 and Oct. 26-29; 1:30 p.m. Oct. 22-23 and Oct. 29-30.
WHERE: 122 N. Grand Ave., Pullman.
COST: $25-$30, rtoptheatre.org.