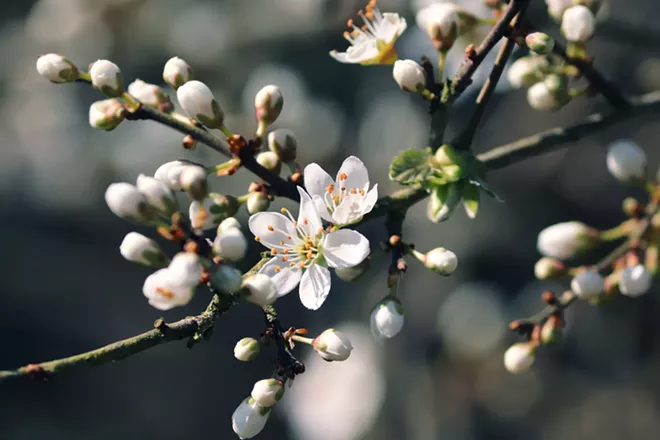 After a year of disruption, the pandemic is again altering the region's big annual spring celebrations.

Art Under the Elms in Lewiston and Hempfest and the Renaissance Fair in Moscow were canceled in 2020. Organizers this year face conditions that change daily as they attempt to restore beloved events to the community.
Art Under the Elms
The Dogwood Festival's 36th annual Art Under the Elms in Lewiston was canceled last week because not enough vendors signed up to participate.
The three-day artisan fair was scheduled to take place in late April outdoors at Lewis-Clark State College, its usual location. Only artists and craftspeople were invited to register. Food vendors were not part of this year's event.
Typically the festival features more than 100 vendors and community groups. Organizers hoped for 40 vendors this year, but fewer than 20 registered, said Erica Allen, director of college advancement and executive director of the Lewis-Clark State College Foundation.
The artisans come from around the country and gave a variety of reasons for not participating, Allen said.
"Some folks didn't feel comfortable traveling," she said. "Some are opting out of shows this year and were waiting to see what 2022 looks like. A lot of the vendors travel from show to show, and since a lot of the neighboring shows are being canceled, they were determining whether making the trip or the circuit is feasible to them."
Vendors who signed up received a refund, and most people were understanding of the circumstances, Allen said.
"Overall people were appreciative of the fact we tried to organize the event. We just hope that next year we can come back and provide an event that's comparable to what we've had in the past, but we'll see; things are changing by the day."
Moscow Hemp Fest
Moscow Hemp Fest is usually a full day, featuring speakers with information about cannabis, live music from local and regional bands and arts, craft and food vendors.
The focus of the April event is to share information about petitions and other legislative activity in Idaho concerning cannabis and medical marijuana, and that information still needs to get out to the public, organizer Arlene Falcon said.
Falcon is planning a political rally April 17 in East City Park, where she will set up a booth to distribute information about the latest petition and constitutional amendment legislators are attempting to pass in Boise that would ban the legalization of marijuana. It likely will be from 11 a.m. to 5 p.m., depending on the weather, she said. There will be no vendors.
Moscow Renaissance Fair
Moscow has celebrated spring with the Renaissance Fair since 1974. It's been canceled twice: after the 1980 eruption of Mount St. Helens and during the 2020 pandemic. This year's May 1 East City Park celebration with food, music, maypoles and vendors is canceled, but organizers are working on an alternative, said Falcon, who is part of the planning committee.
The committee is finalizing plans with the city to hold a mini-market and street parade May 1 to honor the Renaissance Fair tradition. It would take place downtown during the opening day of Moscow Farmers Market. The plan calls for using the two blocks north of the market, she said, and the parade would follow Third Street to East City Park. More details will be announced upon full approval, she said.