"Alice's Adventures in Wonderland" made an impression on Sharon Taylor at multiple points in her life.
Her mother read her the book when she was a child, Taylor read it to her own kids and later she read an annotated version for a presentation to Lewiston's Tsceminicum Club, of which she is a longtime member.


"I got something different out of it each time," she said.
The work by Lewis Carroll is one of 30 classic juvenile fiction titles listed on the garment hem of Taylor's Reading Mother bronze sculpture (see graphic), in its fifth year on display at the Lewiston City Library. More than 200 people have signed up to read not just Alice's adventures, but all the rest of the books too.


The Reading Mother Challenge, for participants in four categories — kids, teens, families and adults — wraps at the end of the month, and so far 205 people have registered, 67 of them adults.


"We wanted to do something special with those titles," Youth Services Librarian Colleen Olive said. "It was a fun collaboration."


The nearly 125-year-old Tsceminicum Club, a women's group formed in 1898 to "to study general literature, science and art," organized the project with the library, purchasing two of every book in the contest to be available for checkout.


"And they'll remain in the collection after the challenge is over," Olive said.


Taylor suggested the reading program as the organization's annual project.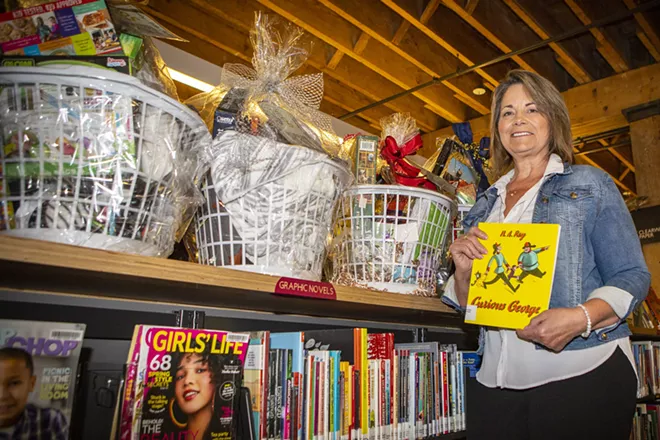 "We want to have as many people as possible taking part in this," she said. "It has been a really good thing for the club. We want to do something for the community every year."


The challenge, which started in October, when COVID-19 numbers were higher and more restrictions were in place, helped keep patrons engaged in reading while in-person activities were limited.


And that was no small task.


"It really stretched our creativity as far as programming goes," Olive said, of the pandemic.


The club assembled four baskets, geared to each age group, stocked with handmade items such as quilts and miniature hydrostone sculptures by Taylor, to be awarded in a raffle at a "Meet the Sculptor" event May 21.


A graphic comprising the titles of all the books in the challenge — designed by Lewiston artist Linda Scott, a close friend of Taylor's — will be displayed at the reception, which is a sort of return to public events for the Tsceminicum Club. In its history, Taylor said, the group failed to regularly meet only during the Spanish flu and COVID-19 pandemics.


In her memoir, Taylor describes learning, with her mother's help, to read a book she borrowed from a library when she was a young child as "the beginning of my lifelong love affair with books," something she said she hopes every young person experiences.


"Reading Mother" was conceived for this purpose, whether or not Taylor had the challenge specifically in mind when she sculpted it.


"I did that sculpture as an homage to my mom, who read to us all the time," she said, explaining she hoped it would inspire people to read to children.
If participants gain "just an appreciation of children's literature and the wonderful classics that everyone knows about but a lot of us have never read," her goal will be met, Taylor said.


Stone (she/her) can be reached at mstone@inland360.com.

———

If You Go
What: "Meet the Sculptor: An Afternoon with Sharon Taylor."
When: 2-4 p.m. May 21.
Where: Lewiston City Library Event Space, 411 D St.
To register: lewistonlibrary.org.
Of note: Participants are encouraged to come dressed as favorite characters from the Reading Mother Challenge books. A drawing for the Reading Mother Challenge baskets will be held at 3:45 p.m.