By MICHAEL-SHAWN DUGAR INLAND360.COM
Mark Hart's life as an award-winning poet didn't truly begin until the death of his father. It was after his father Don died of hydrocephalus in 2003 that the voice in Mark's head was finally ready to share the stories of his past, and poetry was the perfect outlet.
His poetic recollections of his life eventually became the content for his first published work, "Boy Singing to Cattle" which was released in the spring of 2013. Hart will be sharing his poetry Friday at And Books, Too in Clarkston and Saturday at the Whitman County Library in Colfax with both readings slated for 1 p.m.
Hart, 58, grew up on a farm on the Palouse but lives in Massachusetts, where his book of poems became a finalist for the 2014 Massachusetts Book Award and earned a spot on the 2014 "Must Read" for Massachusetts Libraries.
The book is in four sections — the first deals with his father's death and growing up on the Palouse, while the second is written entirely in third person about himself as a boy. The third section is about his life as a young man and the final section centers on his life in New England.
"All of the book deals with agriculture and with the theme of death, in various ways, and understanding death through the cycle of life that's witnessed in agriculture," he said.
Beginning with the first line of his 80-page book, his father's influence is apparent. The opening poem — which is also the first poem he ever wrote — is "Burying My Father."
Hart said that particular poem came to him line by line as he meditated in the funeral parlor, a rarity in poetry construction. As it repeated over and over in his mind, it may very well be the first time the voice in his head was at work.
Though his father inspired Hart's path to becoming a poet, their relationship wasn't always smooth sailing.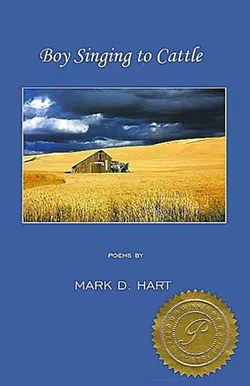 "We're very different people, in many ways," Hart said of his dad. "My father was a farmer, a World War II veteran who had come up in a hard-scrabble sort of way growing up. There were points of conflict between us. Sometimes I got the sense that he didn't appreciate the sort of person that I was, my sensitivity, my interests, my intellectual interests in the arts and so forth."
"And I wouldn't want to over-exaggerate that," he added. "In many ways he was a great father." Upon crafting the verses for what would become the first edition of his life story, Hart realized it was the conflicts between his father and him that made it onto the page, although that wasn't his intent.
"I wrote good poetry," Hart said. "Good poetry is sentimental. I wrote what interests people, I wrote what I thought was interesting about my life and what I was moved inside myself to write." Hart was hardly an expert at poetry when he began. A majority of his writing experience came from his scholastic years when he earned a master's degree in counseling from Seattle University and a doctorate in theology from Boston College.
It was his lack of self-confidence rather than his lack of experience that slowed his career progression.
After publishers continuously rejected his book, Hart was discouraged. He wondered if he was good enough, but ultimately he remained persistent and Pearl Editions publishing company rewarded his perseverance. He won their annual poetry contest which included the publication of his book.
He writes with candor, sparing no details when discussing drinking, death, religion and the disease that changed his life in 1991 which he reveals in a two-part series titled "Chronic Fatigue, Immune Deficiency Syndrome." Doctors couldn't do much in terms of treatment, people couldn't offer sympathy for a disease they didn't understand, and those who had some idea, assumed he was just tired all the time.
But what he felt was more emotional than physical. Along with the insomnia, headaches and negative reactions to foods, the syndrome brought shame and misery.
"The fatigue isn't just like feeling tired," Hart said, "It's like your brain can't even work. It's just a total struggle to get off the couch."
Now, with the help of homeopathic treatments, Hart said he feels about "90 percent well" and rather than worrying about how to get off his davenport, he can focus his energy on having his next book, "The Joy of Blasphemy," published and in stores. if you go WHAT: Mark D. Hart poetry reading WHEN AND WHERE: 1 p.m., Friday, July 11 at And Books, Too!, 918 Sixth St, Clarkston, and 1 p.m. Saturday, July 12 at Whitman County Library, 102 S. Main St., Colfax COST: None
Dugar can by contacted at mdugar@dnews.com and (208) 883-4628.