This is the fourth Q&A in Inland 360's Pride Month series. Previous installments can be found at inland360.com, as can a bonus question from this week's feature. — Mary Stone, editor
When Clarkston teenager Ash Demattos started an LGBTQ+ group at the Shooting Star Cafe in the Lewiston-Nez Perce County Regional Airport, there was the matter of a name.
"There are a few official names we considered, for example 'The greatest ever club of all time at the Shooting Star Cafe,' " Demattos said, via email. "While the name is appropriate and descriptive, I think just calling it The Shooting Star LGBTQ+ group will be easier to fit on a heading."


The pandemic began not long after his dad opened the cafe — "terrible" timing, Demattos said — but business picked up as travel began to recover, and more help was needed.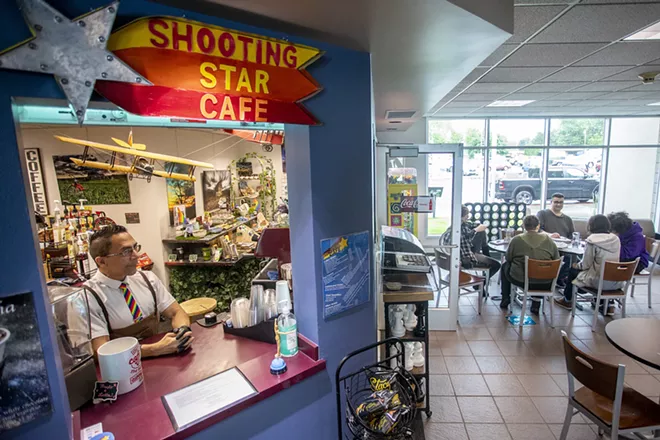 Some creative training implemented in the meantime meant Demattos was ready.


"After school, my dad would pick me and my friend up, and we would come to the coffee shop. He would let us choose any drink we wanted, but we had to learn to make it ourselves," he explained. "My dad's nefarious plan worked, and I started to enjoy working at the café, helping customers and making drinks, and I even learned to like the disgusting bitter bean juice that adults seem unable to function without (I just call it coffee now though)."


The informal group that meets every other Saturday at the cafe has a similar history:
Inland 360: Was it you who started the meetings?
Demattos: How the group got started is an interesting story. I'll have to admit first, I have not always been very outgoing, and the thought of starting a group myself seemed a little bit intimidating. I did not know of any other LGBTQ+ groups in the Lewiston-Clarkston Valley at that time, so I thought if I wanted to be a part of one, I would have to start one.
However, the moment that really made me act on my idea was New Year's of 2021. My dad has this really annoying tradition of making us each come up with a big New Year's resolution which he calls "stretch goals" (I blame that on educational podcasts). It's no use avoiding it or hiding until Jan. 2, because he will find you and bug you until you come up with a resolution. Also, it can't be a fake one just to get you off the hook — I know because I tried that several times. Either way, I mentioned that I wanted to network and meet with other LGBTQ+ people in the community, and he said great, then you should start a club at the coffee shop. Luckily, I wanted to do that anyway, I just needed a little push, and I also did not want to be hassled the rest of New Year's. So I agreed to do it, and I'm glad I did.
However, don't tell my dad I liked his idea — this will only encourage him to keep up this helpful but annoying behavior. It's important to not compliment my dad too much so he does not get a big head (and narrow doors so — . You see the dilemma.)



360: Tell us more about the meetings.
Demattos: The meetings are for any LGBTQ+ people or allies who want to come and be part of a supportive community. The only exception to that is my dad. He can't come, because one of us needs to run the coffee shop, and everyone knows that at my age dads aren't cool to have around all the time. I hear they get cooler when you get older, and they are always very cool when you need to move or do yard work. I'm not sure if there is a class dads can take about how to be cool around your teenager, but if there is please let me know so I can sign my dad up — he is fine with night school, weekends, whatever.
Our group normally gets together at cafe every other Saturday. I also post on the cafe's Facebook page when the next meeting is happening. We pull a few tables together, and I provide some snacks, and people can buy drinks if they want. It's pretty informal. We talk about issues that matter to us, talk about fun things we like to do and sometimes play games. It's really just a time to be around supportive, like-minded people and create a sense of community.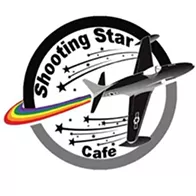 360: In what ways do you collaborate with other LGBTQ+ groups in the valley?
Demattos: The Shooting Star Café plans to be a vendor at the Celebrate Love event July 9 at Pioneer Park in Lewiston. We really just want to participate, engage and support the community. We plan to have some fantastic baked items to sell, designed specifically to showcase Pride colors, as well as some incredible drinks that are only going to be for this event. It's going to be at the same level as the PSL (pumpkin spice latte), but that we will only do for Pride Month or Pride events. It's something special we want to use to celebrate inclusiveness.
360: Coeur d'Alene police thwarted an apparent attempt by a white nationalist group to disrupt a Pride event there June 11, a story that garnered national attention. How does that incident affect our community here? Is it something you're talking about?
Demattos: The event that happened (but thankfully was thwarted) in Coeur d'Alene is sad to see. It's hard to imagine people would be against inclusivity and let hate triumph over love in their lives. However, I don't let those events hold me back. I believe that love is stronger than hate and that love is worth fighting for.
Learn a little more about Ash with our bonus online question:

Inland 360: Please tell us a little more about yourself.
Demattos: I don't really like to talk too much about myself, but there are a few things I can share. First off, my pronouns are he, him. I am an awesome person, of course, and I am also a big animal lover.
I have a parrot named Phoenix that I hand-raised since he was a tiny little featherless baby. I hang out with him every day, and he always makes me laugh. Once, he escaped and flew to the airport; luckily we got him back (but that is a whole other story). I also have a dog, an Australian shepherd with one yellow eye and one blue eye. She is a lot of fun, and my parrot has learned to call her name and calls out to her all the time and tells her to come here.
Besides that, I enjoy working at the coffee shop and doing lots of the typical teen stuff like listening to music that annoys my parents, playing some video games, avoiding yard work and having a messy room (I actually like to keep a clean room but really want my parents to have the full raising-a-teen experience, so I do what I can).