Photographer Darren Balch likes to joke that everything he ever needed to know he learned in high school, living in a college town without parents.
That town was Pullman, and it's where he decided he wanted to photograph every famous band in the world.
While he didn't get to them all, Balch did go on to preserve a powerful chapter in Pacific Northwest rock 'n' roll history as the first house photographer at The Gorge Amphitheater. His photos of rock legends who played there in the early '90s are collected in a new coffee table book, "Rock & Roll on Columbia: Tall Tales from a Short Attention Span."
"I could have gone all gonzo, Hunter S. Thompson, rock and roll story," Balch said about recounting that time in his life. "Did that stuff happen? Yeah. Is that something I'm going to focus on? No, that's not something I'm going to put in a high school library."
Balch arrived in Pullman on a Greyhound bus in 1979. He left what he called an abusive home life in Yakima to live with siblings who were attending Washington State University. He enrolled at Pullman High School and signed up for a photography class, a subject he equated with the freedom to roam. Then two powerful experiences changed the course of his life: He saw an exhibit of photographs by Ansel Adams at WSU and, a few weeks later, he saw Van Halen in concert. He believed his future was to combine photography with rock music.
The teen began pursuing this dream right away. Like many campuses, WSU had a ride board where students could arrange to share transportation. He caught rides to Seattle and elsewhere to photograph concerts, returning to Pullman to develop his film at the high school photo lab.
"I really credit Pullman with changing the trajectory of my life," said Balch.
The fact he didn't have any credentials didn't slow him down.
"I got told 'no' more times than a kid in a cereal aisle. I never hid my camera," he said.
After high school, Balch enlisted in the U.S. Air Force. He spent eight years in the military and later studied electronics manufacturing. In his spare time, he went to every concert he could with his camera.
In 1989, he returned to Pullman to focus on photographing bands. College students were talking about a new venue near where he grew up called the Champs de Brionne Music Theatre. He began making regular trips there, photographing The Doobie Brothers, Ringo Starr, George Thorogood and many other legends against the dramatic backdrop of the Columbia River.
"I never felt I was photographing people; I was concentrating on what was going through them." - Rock and roll photographer Darren Balch

tweet this
Over the years he built a portfolio by submitting his prints to media representatives at record labels, local fanzines and newspapers, including WSU's Daily Evergreen. At the same time, the reputation of the remote venue also grew. It came to be known simply as The Gorge. In 1993, he became the venue's first house photographer. Tina Turner opened the season. The next week was Lollapalooza with Rage Against the Machine, Front 242 and Alice in Chains.
"After that it was three years, every summer, sleeping in an alfalfa field," Balch said.
The book showcases his photos of the titans from that era: Bonnie Raiit, Blind Melon, Pearl Jam, Janet Jackson, The Moody Blues, P.J. Harvey, Boyz II Men, Meatloaf, Tom Petty, the Stone Temple Pilots, Courtney Love and many others. His intent was always to get the shot that captured the feeling of that moment and place in time.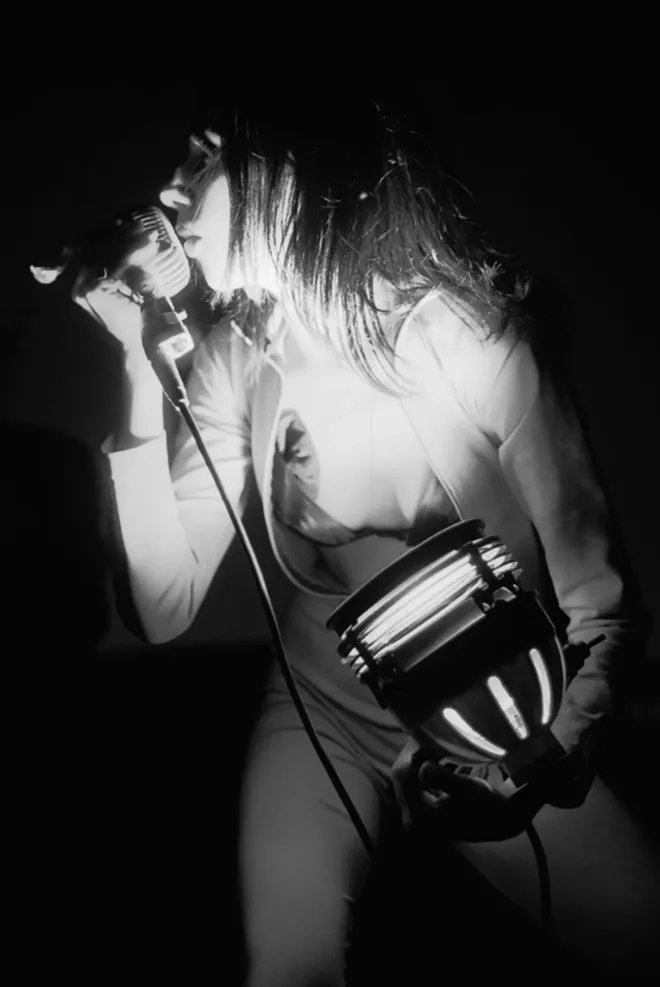 "I never felt I was photographing people; I was concentrating on what was going through them," Balch said. "To me, the black and white tones (of photography), to me they're audible. I'm actually having a conversation with a piece of paper and chemistry."
In one of his photos, Angelo Moore, frontman for Fishbone, reaches out from the stage to clasp a fan's hand.
"It's not my hand. Everyone always asks that," Balch said. Moore was pulling the person up to do a stage dive.
"All the energy from 25,000 people and the band is connecting right then and there."
In accolades for Balch's book, Vince Bryan, founder of The Gorge, wrote that his photos played a key role in bringing the excitement and joy of the venue to both fans and artists.
In 1995, Balch decided the schedule he was keeping was not sustainable. He was working full time on weekdays in electronics manufacturing while spending the weekends shooting concerts.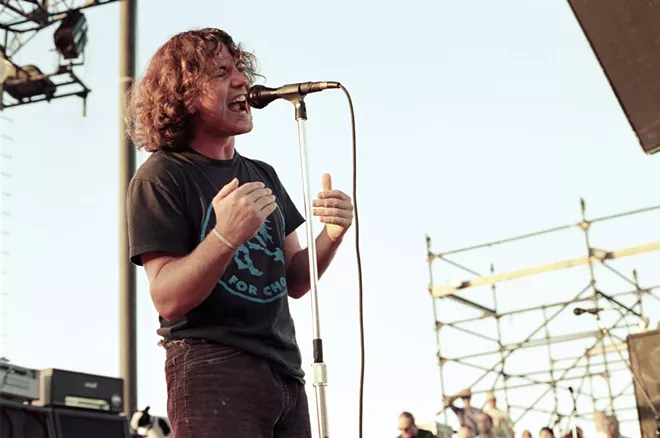 "You have to come from the circus, you know," Balch said. "I was just ready to move on. My summers were consumed. I was getting wanderlust. I wanted to photograph other things."
He now works as a materials manager for an industrial pump distributor. He lives in Spokane Valley with his wife, Kathy, who he met at the last concert he photographed at The Gorge. He is featured in a new documentary about the venue, "Enormous: The Gorge Story."
"I'll tip my hat to that venue any day," Balch said. "It's turned into this mecca of migration and it's startling how much goes on out there during those things. The happy-go-lucky, no amenities, anything-you-could-smuggle-in venue we knew is gone. I think I hold the record for smuggling in beers to that venue."
He's still taking photos. He owns a digital camera but continues to develop his own film in a lab in his home. These days his favorite subject is farmers.
"I enjoy north and south Whitman County. I enjoy the seasonal changes. To me, that's art. I want to capture that."
He said "mortality" is the impetus for collecting his photos into a book.
"Since I was a kid, I always had this knowledge that we're mortal. If you've got a dream, you've gotta do it. We get 80 years, if we're lucky; that's if we're lucky. Memories, in the end, that's all we've got, and that's not even guaranteed anymore. When you're in high school shooting off your mouth about photographing every band in the world, you're marked."
"Rock & Roll on Columbia: Tall Tales from a Short Attention Span" is available online at virtuallyonstage.net.