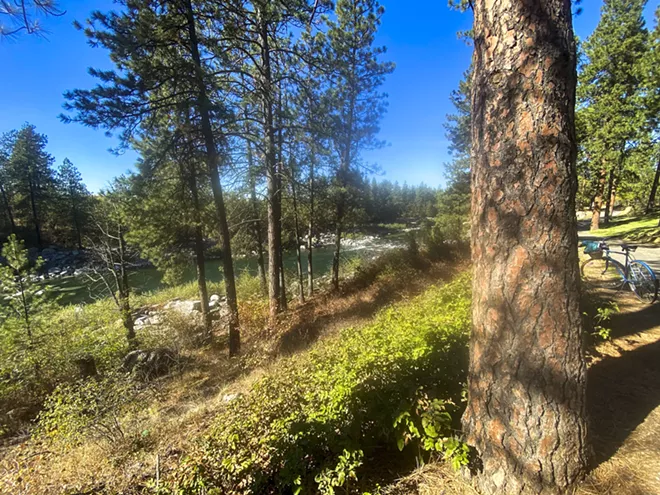 SPOKANE VALLEY — Not far from the Spokane Valley Mall lies a stunningly scenic, accessible section of the Centennial Trail, a bicycle and pedestrian route that extends from the Coeur d'Alene area to Nine Miles Falls, Wash.

I stumbled onto this under-publicized gem by accident. It was one of those sunny, not-too-warm, and not-too-cold early days of the fall — weather too rare to waste indoors.
Since I turned 52 on Labor Day weekend, I decided it would be fun to attempt to bicycle my age on the Centennial Trail from Coeur d'Alene to the Spokane Valley Mall and back. I finished 4 miles short but had so much fun that missing my goal didn't matter.
For much of the journey, the experience was one of contrasts.
On one side, the water of the Spokane River ran so clear through a valley it was possible to see rocks on the bottom all the way across. On the other side, the racket of cars and trucks speeding along Interstate 90 drowned out any nature sounds.
But a few miles from the Washington-Idaho border, the whole environment of the trail turns calmer.
At that stage, the trail veers north with the river. Residential neighborhoods and commercial districts replace the freeway on one side as the trail heads through thickets of evergreen trees.
I was surprised that it took me decades to discover this destination-worthy ride that was a little more than a 2 ½-hour drive from my house.
I watched from my bicycle as a pair of kayakers navigated the shallow water and an angler tried his luck, sharing the path with a handful, not a crowd of pedestrians and cyclists.
The terrain between the Barker Road and Sullivan Road trailheads is as flat as it is scenic, making it a great family-friendly area for people of a variety of fitness levels to explore on foot and by bicycle.
The distance for that leg is only 5 miles, roundtrip. The Barker Road trailhead with its parking lot and vault toilet is a good spot to start.
Those who want more distance could start at the Harvard Road trailhead in Liberty Lake, which also has a parking lot and vault toilets, head west, and turn around at Mirabeau Park trailhead for a 13-mile roundtrip, with a moderate climb near the Mirabeau trailhead.
I was riding my 1960s-70s-era Schwinn Suburban 10-speed. It was more than adequate, even though it lacks the 18 speeds and "granny gear" of my other bicycle — that I can't live without if I am climbing anything with serious elevation.
Besides the ease of the terrain, there are plenty of informal foot trails that lead to the river, offering sunny or shady spots among the boulders to have a picnic, read a book, watch wildlife, take photographs or journal.
Had I known what was there, I would have budgeted more time to linger. I left the trail already planning my next outing, hoping for more sunny autumn days.