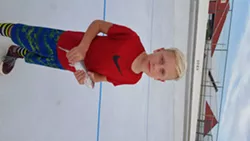 It's not everyday you can throw a line into a swimming pool and pull out a fish. Friday will be an exception to that.
Kid Fish Day has been a regular event at the Asotin County Aquatic Center in recent years. It's grown to the point that it was moved to the wave pool, which is emptied of its chlorinated water and half-filled with fresh water for the event.
Before the event, around 75 rainbow trout from the University of Idaho will be released into the pool. They acclimate just in time to be caught by kids armed with poles, bait and casting instruction that will be provided. Attendees are welcome to bring poles and bait of their own if they like, but swimming into the pool with a big net is not an option -- the idea is to catch fish, not kids.
The fish aren't huge -- generally in the 6- to 7-inch range, said Jessica West, program coordinator with the aquatic center. But that's big enough to get the experience of catching a fish and reeling it in. Kids won't be able to take home live fish, but they can have their catch filleted before they go if they don't want to do it themselves.
Besides fishing, there will be a fish-themed craft, casting contest and knot-tying station.
IF YOU GO:
WHAT: Kid Fish Day
WHEN: 4:30-6:30 p.m. Friday
WHERE: Asotin County Family Aquatic Center, 1603 Dustan Loop, Clarkston
COST: $3.50 per kid, free for adults