Amid dim purple lighting, Ruth Boden took a seat with her cello in the center of the room. Boden's bright green scarf contrasted with the 12 vibrant orange horns of "Ambiente432," by artist Trimpin on permanent display in the Jordan Schnitzer Museum of Art WSU in Pullman. She invited the audience to move around, if they felt inclined to do so.


"As you listen, feel free to close your eyes, breathe; let the year wash away," she told the crowd.
As Boden closed her eyes, she began to play, immersed in the sounds and the moment. With the tones of Trimpin's interactive sound display around her, emitting frequencies tuned to 432 hertz, she improvised deep, sonorous tones filled with emotion and thought, blending effortlessly and harmoniously with the artist's work. Unfazed by the occasional movement of the crowd, or the echoes of airplanes passing by, she used the sound and its unpredictability, rather than working against it.


Boden is an associate professor at Washington State University, where she teaches cello, bass and music theory. She has a deep connection to the cello, which she began playing in the fourth grade with a public orchestra.
"One of the things I really love about the instrument is I feel like it represents the entire range of the human voice," she said in an interview before the concert. "I feel like when people hear the cello, they're hearing part of their own self."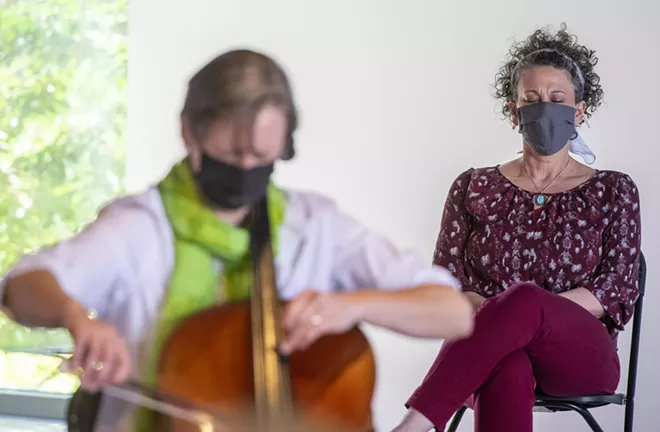 Before her live performance, Boden had a chance to have dinner with Trimpin, the German, Seattle-based creator of "Ambiente432," and they discussed how he wanted to use the space and the interactions of people throughout it.


"I ended up taking a walk through the space, and I thought, 'This would be so much fun to just bring my cello in and explore the sounds of my instrument and Trimpin's horns and utilize the huge open space to experiment with sound,'" she said.
The horns from Trimpin's kinetic sound sculpture are massive structures resembling megaphones. They are arranged strategically around the ceiling to respond to the movement of viewers throughout the room by emitting resonating tones.


Boden's performance last week titled, "From 440 to 432: Taking the Tension Out," was one of the events in association with the museum's new "Art and Healing" exhibit. The exhibit was created as part of a collaboration with Pullman Regional Hospital "to engage with the Pullman community in a conversation among art, health and healing," according to the hospital's website.


Boden believes these performances are a way for people to heal and wash away the chaos of the past year.


"There aren't any concrete expectations of what to expect, how to behave, how to listen; it's up to all of us in the space," Boden said. "The notion of using really calming tones, the meditation, the vocalizations, everything is to help people try and reconnect with their own minds and to get a chance to take some deep breaths, be in public again and experience art and music again."


The "Art and Healing" exhibit attempts to address several questions regarding art and health, most prominently: How does art keep us healthy?


The answer to this question is subjective. Boden believes well-being and emotional ability to cope is strongly tied to music.


"This is going to sound a little cheeky," she said. "When we're happy, we go to music. When we're sad, we go to music. When we're bored, we go to music. When you don't have it, it makes you realize how precious it is to your feeling of well-being, self-worth — whatever it is."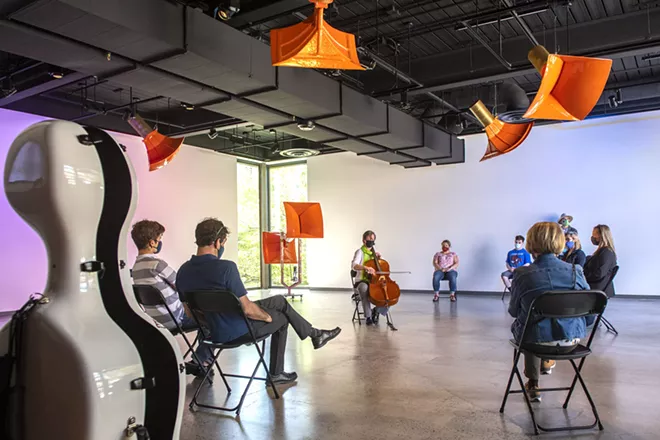 Experiencing art can have a profound effect on an individual's health, but the power of creating art also is a key to well-being, said Kristin Becker, education coordinator of the museum.


"We're thinking both in terms of experiencing art as a viewer or listener, but also the making of art," she said. "Just the act of using your body, working with the materials, is really therapeutic. It can help you get your mind off things or help you to process."


Becky Highfill, director for the Center for Learning & Innovation at the hospital, has seen the impact art has on individuals in a healthcare setting. Highfill is leading the hospital's efforts in the collaboration with WSU.


"There's a lot of research that has been done over the years around art and healing that shows that integrating art into a health care setting supports physical, mental and emotional well-being," she said. "It's also been shown, for providers, to reduce stress, improve workplace satisfaction and employer retention."


Boden plans to explore sound further with two more live performances, "When Stuck in a Rut" on June 2, and "Listening Beyond Hearing" on June 23.


"The whole concept is that we've spent so much time in a 2D world and I'm so excited to get the chance to share a 3D world that has texture and breath in it," she said.