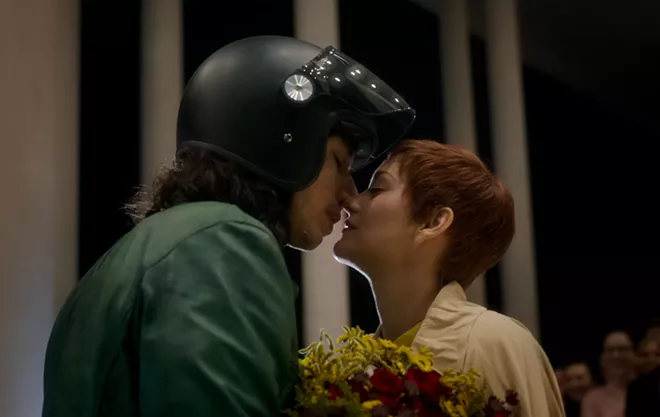 What's new for home viewing on Video on Demand and Netflix, Amazon Prime, Hulu, Disney+, HBO Max, and other streaming services, starting Friday.
Top streams for the week
Hugh Jackman plays a private detective who helps clients recover lost memories and Rebecca Ferguson is his new client in "Reminiscence" (2021, PG-13). Set in near future (where rising sea levels is drowning Florida, it's a mix of private eye thriller, romantic drama, and science fiction odyssey. Thandiwe Newton costars in the feature debut of Lisa Joy, cocreator of "Westworld." Originally slated as a theatrical release, it streams same days as theaters, available for 31 days only beginning August 20. (HBO Max)
The surreal musical "Annette" (2021, R), starring Adam Driver and Marion Cotillard as a glamorous couple whose baby has an exceptional gift, is an operatic romantic drama that has been polarizing audiences and critics since it debuted at Cannes. Directed by Leos Carax from an original screenplay Ron and Russell Mael (better known as the pop duo Sparks), who also provide the songs, it blurs the line between theater and film with a tragic edge and a cinematic brio. (Amazon Prime)

"Sweet Girl" (2021, R) stars Jason Momoa as a widower whose quest for vengeance against a pharmaceutical company puts him and his daughter (Isabela Merced) in harm's way. Justin Bartha and Amy Brenneman costar in the action drama from Momoa's longtime producing partner, Brian Andrew Mendoza, making his directorial debut. (Netflix)
"The Chair: Season 1" (TV-MA) stars Sandra Oh as the first woman of color serving as chair of the failing English department of an Ivy League college. The satirical drama, created by Amanda Peet and Annie Wyman, uses humor to explore the complicated issues of respect, inclusivity, sensitivity, and social justice roiling in academia and in the culture at large. Jay Duplass, Holland Taylor, Bob Balaban, and David Morse costar. (Netflix)
Nicole Kidman plays hostess to "Nine Perfect Strangers: Season 1" (TV-MA) in the drama set at a boutique resort that promises healing and transformation to the strangers of the title (among them Melissa McCarthy, Michael Shannon, Bobby Cannavale, Regina Hall, and Luke Evans). David E. Kelly writes and produces with John-Henry Butterworth and Samantha Strauss, adapted from the novel by Liane Moriarty. Three episodes available, new episodes on Wednesdays. (Hulu)
Pay-Per-View / Video on Demand
Ryan Reynolds and Samuel L. Jackson team up again in the action comedy "The Hitman's Wife's Bodyguard" (2021, R) with Salma Hayek joining the duo. Morgan Freeman and Antonio Banderas costar. Also on DVD and at Redbox. Also new:
Netflix
Taylor Kitsch is an American cop assigned to help create a new police force in Berlin in the aftermath of World War II in "The Defeated: Season 1" (Germany, TV-MA). Nina Hoss, Logan Marshall-Green, Michael C. Hall, and Tuppence Middleton costar in the multi-lingual drama, which was previously released in Europe under the title "Shadowplay."
International passport: three films for teenage and young adult audiences debut this week: thriller "Black Island" (Germany, 2021, TV-MA, with subtitles) and romantic comedies "The Secret Diary of an Exchange Student" (Brazil, 2021, TV-14, with subtitles) and "Out of my League" (Italy, 2021, TV-MA).
International TV: parents keep up the pretense of a loving marriage for the sake of the kids in the family dramedy "Everything Will Be Fine: Season 1" (Mexico, TV-MA, with subtitles).
True crime: "Memories of a Murderer: The Nilsen Tapes" (2021, TV-MA) uses audio tapes made by British serial killer Dennis Nilsen to chronicle his life and crimes.
Kid stuff: "The Loud House Movie" (2021, TV-Y7), a feature-length spinoff of the animated kids show, sends the sprawling family to Scotland.
Amazon Prime Video
Martin McDonagh's dark-humored crime drama "In Bruges" (2008) stars Colin Farrell and Brendan Gleeson as hitmen hiding out in the magnificent Belgian city.
Hulu
Indie drama "The Hate U Give" (2018, PG-13) stars Amandla Stenberg as black teenager who witnesses the shooting death of a childhood friend by a nervous young white patrolman. Regina Hall, Russell Hornsby, and Anthony Mackie costar.
Claire Foy is a career woman committed to a mental institution after a routine counselling session in Steven Soderbergh's unnerving "Unsane" (2018, R).
HBO Max
The two biggest movie monsters around go toe-to-claw in "Godzilla vs. Kong" (2021, PG-13) after the lizard king attacks Florida and the giant ape is set free from Skull Island for the inevitable clash of the Titans.
The documentary "In the Same Breath" (2021, TV-MA) looks at the earliest days of the novel coronavirus, and the experiences of those confronting it, in both China and the United States. Directed by Nanfu Wang, an award-winning Chinese filmmaker based in the U.S. More true stories:
Also newly arrived are Steven Spielberg's original "Jurassic Park" (1993, PG-13) and the first sequels, "The Lost World: Jurassic Park" (1997, PG-13) and "Jurassic Park III" (2001, PG-13).
Disney+
"Growing Up Animal: Season 1" follows the journeys of baby animals from womb through infancy. Also new is the second season of "Diary of a Future President" (TV-PG). All episodes of both shows streaming.
Other streams
"Heels: Season 1" (TV-MA) stars Stephen Amell and Alexander Ludwig as brothers in the professional wrestling world of Georgia, one playing a hero in the ring and the other a villain. New episodes on Sundays. (Starz)
Episodes of "The Walking Dead: Season 11" (TV-MA) stream a week before their respective cable debuts. Also new is a special episode of "The Talking Dead" featuring the cast and producers of the show discussing the new season. (AMC+)
Sean Bean and Stephen Graham star in the limited series prison drama "Time" (not rated) from BAFTA-winning writer Jimmy McGovern. (BritBox)
The award-winning Welsh crime thriller "Hinterland: Complete Series" (2013-2016, TV-14) stars Richard Harrington and Mali Harries as police detectives solving dark murders in the coastal town of Aberystwyth. (Acorn TV)
The limited series "Deliver Us" (Denmark, TV-14, with subtitles) is a dark psychological drama about the plot seemingly perfect revenge murder in a small town that begins to unravel. Also new is "Tatort: Streets of Berlin: Season 1" (Germany, TV-MA, with subtitles), the latest spinoff from the long-running crime thriller. New episodes on Tuesdays. (MHz)
"The Ranown Westerns" collects the six terrific westerns made by Randolph Scott with director Budd Boetticher, from "Seven Men from Now" (1956) costarring Lee Marvin to "Ride Lonesome" (1959) with Claude Akins, plus Taylor Hackford's 1971 documentary "Budd Boetticher: Study in Self-Determination." Also new is the streaming premiere of Kiyoshi Kurosawa's "To the Ends of the Earth" (Japan, 2019, not rated, with subtitles). (Criterion Channel)
New on disc and at Redbox: "The Hitman's Wife's Bodyguard"
Sean Axmaker is a Seattle film critic and writer. His reviews of streaming movies and TV can be found at https://streamondemandathome.com.