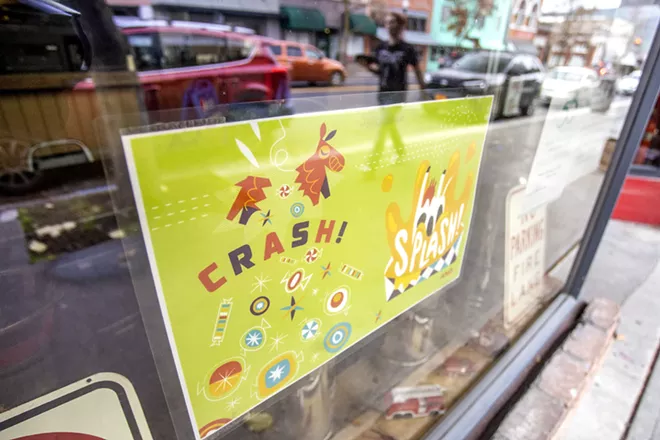 The Asotin County Library recently brought a program to Clarkston meant to engage kids in reading in a new way by making it an active, outdoor experience.

Employees and volunteers from the library installed StoryWalk displays at two sites where children and parents can explore reading together as they go for a stroll. To create a StoryWalk, pages from a picture book are laminated and displayed in public places, such as shop windows or along a chain-link fence, Youth Services Librarian Mary Neuman explained.
Two books, one on each side, are mounted on a fence at the library's Heights branch: "Skywatcher," by Jamie Hogan, and "Big Dance," by Aoife Greenham. Another, "Crash, Splash or Moo!," by Bob Shea, is displayed in the windows at more than a dozen downtown Clarkston businesses, starting at Edward Jones at 931 Sixth St. The selections are meant to appeal to children from toddlers to somewhere around fourth or fifth grade, depending on reading level. They will be up for another week or so, Neuman said.
"It's something I've wanted to do for several years," she said. "It just seems like a fun idea for families."
The organizations Let's Move in Libraries and the Association of Bookmobile and Outreach Services established this week (Nov. 15-19) as StoryWalk Week, and Neuman took that as her cue to bring the concept to the Lewiston-Clarkston Valley.
Patrons who stop in at the library's downtown and Heights branches to pick up a list of the businesses where the Storywalk displays are located can also pick up items that go along with the books, including a banana-scented bookmark and banana Laffy Taffy candy to correspond with the book featured downtown.
More than 300 public libraries in the U.S. and Canada have offered outdoor StoryWalk programs since 2017, according to the Let's Move in Libraries website.
Neuman described the concept as a way for libraries to encourage families to spend time together outdoors and to advocate for and emphasize the importance of literacy, reading, movement, exercise and health.
It's possible Storywalks could become a permanent fixture in the community. Library officials submitted an application for a grant through Humanities Washington to install a display at Granite Lake Park in Clarkston, Neuman said.
In the meantime, the books on display in downtown Clarkston and at the library's Heights branch offer an introduction to the concept Neuman said she hopes sparks new interest in reading together.
More information about the StoryWalk program can be found at letsmovelibraries.org/storywalk/.
Stone can be contacted at mstone@inland360.com or (208) 848-2244.