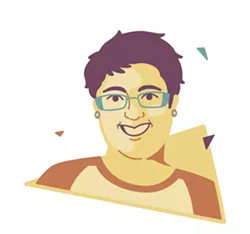 I always had a dog growing up, and life didn't seem complete without one, so when I moved out on my own getting a dog was at the top of the list. My mom warned me that dogs are expensive. I probably said something like "Yeah, yeah, I know."


But I didn't know. Dogs eat up two of humans' most valuable resources: time and money.
Time commitments include making sure dogs get regular exercise, medical care, training and, in the case of my dog, extra cleaning.


I got Mia from the Lewis Clark Animal Shelter in 2018. She is a 70ish-pound black Labrador/Chesapeake Bay retriever mix, now about 8 years old.


She goes on at least a 20-minute walk every morning, more like 30 minutes when you add in all the sniffing every blade of grass and peeing on every clump of dirt. I finally found a harness that works for both of us after several failed attempts. However, if a rabbit runs by, she still tears my arm off trying to chase it.


Training is a constant. Dogs, like people, are creatures of habit; if the dog gets out of the habit of an activity or training, you get to retrain yourself and the dog. With some dogs, it comes more easily than others. Mia is stubborn, but she also lives for food. There's a lot of things she won't do, but if you wave a treat in front of her eyes she is more than happy to comply, even when it comes to taking a bath or being brushed.
When it comes to expenses, in addition to training and treats, then there's her regular food.
While I closely monitor her food consumption as she has had weight issues in the past, she still eats a fair amount, which in turn eats into my monthly spending. One time, she figured out how to open her food bin and helped herself while I was out of the apartment, shopping for my food.
To keep her occupied while I'm at work, I have bought her various dog puzzles and toys that hide treats so she has to learn how to release her reward. Sometimes she figures it out in 30 seconds; sometimes it takes her five minutes. If you have a dog like mine that's labeled as an "aggressive chewer," you quickly realize standard squeaky toys and tennis balls only last five minutes, so you're spending $10-15 for a very short burst of enjoyment.


But if you have a dog like mine and you don't supply entertainment, the dog will find ways to entertain itself — usually in ways you don't want. For Mia, this means getting into the garbage and spreading its nonedible contents around the house. For me, that meant purchasing hardware to keep her out, including bungee cords to barricade the cabinets and allegedly toddler- and pet-proof locks and buying a new garbage bin, again with a lock that was pet- and toddler-proof — but not Mia-proof. This fondness for garbage not only costs money to try to prevent, but cleanup takes a fair amount of time, while Mia self-shames in the corner.


All of these adventures, while tiring and expensive, can sometimes lead to the biggest expense: vet bills. While Mia goes for a regular checkup and vaccinations, she's also had some nonscheduled visits. She had two surgeries to remove broken teeth, which she got from aggressively chewing toys that were too hard; a couple of visits to remove blockages from her stomach caused by things she shouldn't have eaten that I was unable to stop her from eating; and I took her in when she got into a tussle with a neighborhood cat, and I wanted to make sure her scratch didn't get infected.


And that doesn't include various injuries I have received, including scrapes from falls because of getting pulled along on a squirrel or rabbit chase and a smashed face from getting pulled into a door frame during an eagerly awaited outdoor bathroom break.


But is it all worth it? All the time, money, cleanup and dog-related injuries?
When I come home from a long, hard day at work to my dog greeting me like it's been a million years since she's seen me, wagging her tail and nuzzling me with her nose, all because I'm finally here and all is right again in her universe — yeah, it's worth every penny.
Brewster may be contacted at kbrewster@lmtribune.com or at (208) 848-2297.