By Tara Roberts For inland360.com
Four months later:
In the end, Jamie and I did end up making the news for our encounter with the Hoodoo Mountain Howler. The front page, even: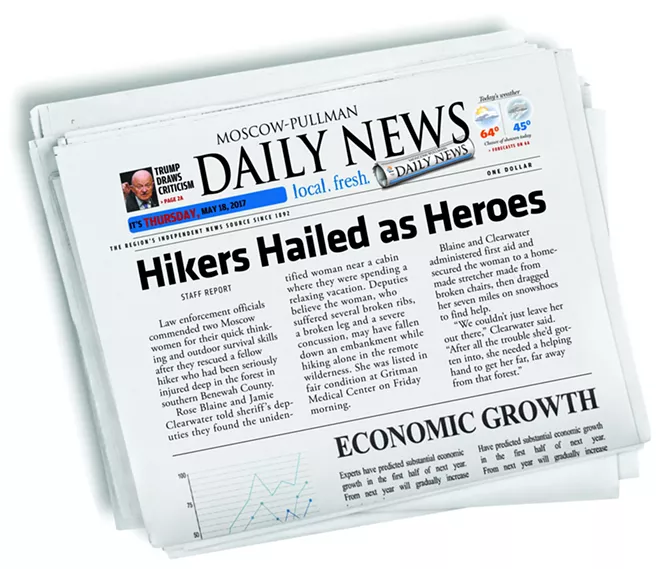 Hikers Hailed as Heroes Staff report
Law enforcement officials commended two Moscow women for their quick thinking and outdoor survival skills after they rescued a fellow hiker who had been seriously injured deep in the forest in southern Benewah County. Rose Blaine and Jamie Clearwater told sheriff's deputies they found the unidentified woman near a cabin where they were spending a relaxing vacation. Deputies believe the woman, who suffered several broken ribs, a broken leg and a severe concussion, may have fallen down an embankment while hiking alone in the remote wilderness. She was listed in fair condition at Gritman Medical Center on Friday morning. Blaine and Clearwater administered first aid and secured the woman to a homemade stretcher made from broken chairs, then dragged her seven miles on snowshoes to find help. "We couldn't just leave her out there," Clearwater said. "After all the trouble she'd gotten into, she needed a helping hand to get her far, far away from that forest."
###
Jamie was mildly annoyed the article said she was from Moscow instead of Seattle, but I think she's warmed back up to this part of the country. She stayed with my family for a few weeks while figuring out what to do next, with her TV career a thing of the past.
We didn't do any more hiking — after all that snowshoeing, it took me a while to decide to try walking again. But we did spend a lot of time eating ice cream, watching movies with the kids, and telling and re-telling all our favorite college stories to Mike. Well, mostly to each other.
It didn't take Jamie long to find a new job, either. She's now the public relations director for a chimp rescue program down in Florida. She helped them raise an additional $20,000 in her first three months, but she's best known for her wildly successful YouTube video: "21 Times Baby Chimps Were the Cutest EVER." My kids are huge fans.
I keep the newspaper clip in my bottom desk drawer, along with the last scrap of blanket that belonged to Andy the sasquatch — or Andy the Howler, I guess. If I ever get tired of writing descriptions of scarves and sweaters, maybe I'll turn our story into a book. When I visited Jamie in Florida last week I told her the idea, and she said people will think it's too wild, even if I say it's fiction. I think she really just wants to keep the story between us.
Jamie's promised to visit more often, too. When she comes up this fall, we're going to take Maggie and Joey out for their first big hike, up in the Hoodoo Mountains past the Palouse Divide. I admit I'm a little terrified of taking my kids into the wilderness, but I have a feeling they'll think it's a great adventure. And maybe we'll run into some friends.
The end.
Roberts is a writer and mom who lives and works in Moscow and is very slowly pursuing her master's degree in English. She can be reached at tarabethroberts@gmail.com.