Around mid-October, Ken Salmon noticed a new face hanging around the Cedars Inn and Suites during his maintenance rounds: a furry face, with long whiskers and bright green eyes.
Like most other frequent feline visitors to the Lewiston motel, she quickly had Salmon wrapped around her little toe beans.


"I'm kind of a sucker," he said of the neighborhood cats. "I'll always feed them."
This one was a sweetheart, and he guessed there might be a reason she sought out the inn.


"I had a suspicion she was pregnant," Salmon said.


Sure enough, after not seeing her for a while, he walked into a storage room he'd equipped with a small pet door and — "Holy cow, there's kittens right there."


Kaylee Ward, who lives and works at the Cedars Inn, was experienced at fostering kittens, and the new family quickly became part of the motel's menagerie.


"I think everybody here has cats," manager Cheryl Strickland said.


Whereas "kitten season" usually wraps up in the fall, it just didn't end this year, Ward said.


"I (fostered) 22 kittens this summer, not counting these five," she said. "It's not stopping."


Mama cat is set to be spayed today, Dec. 15, then put up for adoption Friday, Dec. 16, through the Lewis Clark Animal Shelter in Lewiston.


"She's super, super friendly," Ward said.


The babies, three females and a male, will be adoptable Dec. 28, after their spay/neuter appointments the day before.


It's a story being repeated throughout the region and the country.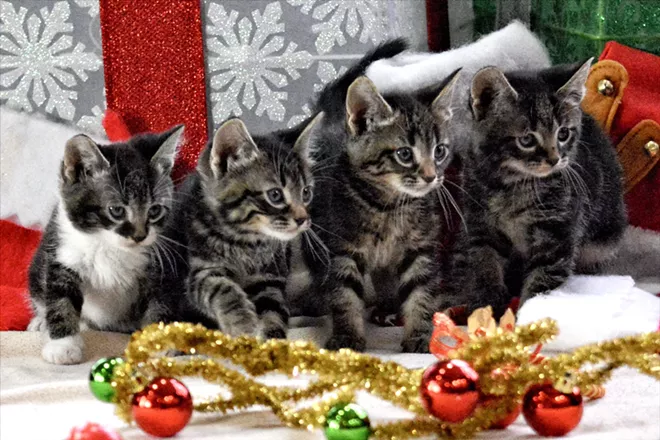 "It's national right now," said Abby Seward, foster coordinator at the Lewis Clark Animal Shelter in Lewiston. "People are seeing such an influx all over."


Seward, who works full time as the receptionist at the nonprofit shelter's front desk, initiated the foster program when she started there five years ago.


The fledgling program took in just fewer than 100 kittens in 2019, and the number of kittens cared for by community volunteers until they're ready to be adopted has varied since. This year marks the most she's ever seen, with nearly 300 going through the foster program so far. Year-to-date, Seward said, the shelter has taken in more than 750 cats and 650 dogs, a struggle at times for its five animal caregivers.


The significant bump in foster numbers comes in part because more volunteers are willing to take in young kittens with medical needs, such as special feedings, as the program grows through community support, Seward said.


But the sheer number of kittens didn't drop this fall and winter like it usually does.


"We used to never have Christmas kittens, ever," Helping Hands Rescue President Polly Benson said. "And now we'll have kittens right though Christmas."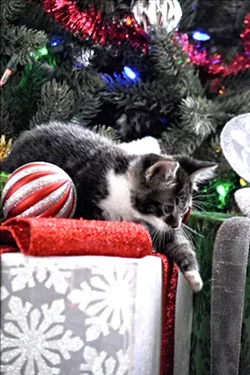 The Lewiston-based nonprofit organization's all-volunteer staff helps coordinate pet rescue, foster and adoption. The group also has a spay/neuter program to help community members pay for the procedures, covering one-third of the cost at area veterinary clinics. (Spay/neuter costs for kittens adopted through Helping Hands are fully covered through an adoption fee.)


The volume of kittens this year has been more than ever, with more than 400 total by the first of November and as many as 90 kittens being fostered at one time.


"It's just been crazy," Benson said. "We've never had kittens like we have this year. It's everybody. It's all the rescues, all the shelters."


Indeed, rising numbers and late-season litters are the case on the Palouse as well, according to Sierah Beeler, director of the Humane Society of the Palouse in Moscow.


"We had 133 kittens arrive so far at HSoP this year, and currently have 15 kittens still in shelter awaiting healthy status for adoption," Beeler said via email, noting a litter was born Oct. 26.


The folks at the Cedars Inn are doing what they can to help contain the burgeoning kitten population in their midst. The mama and babies Salmon found won't be the last to visit the vet for spay and neuter appointments, if the employees there have their way. They have their sights set on a male cat who frequents the grounds and might well be the father of any number of area strays.


"He's next," Strickland said.


Stone (she/her) lives with two feisty cats, one adopted from the Humane Society of the Palouse in Moscow and the other scooped from the streets of Orofino as a tiny, flea-ridden kitten. She can be reached at mstone@inland360.com.
———
Interested in adopting, fostering, donating or volunteering?
Area animal shelters and rescue organizations include: