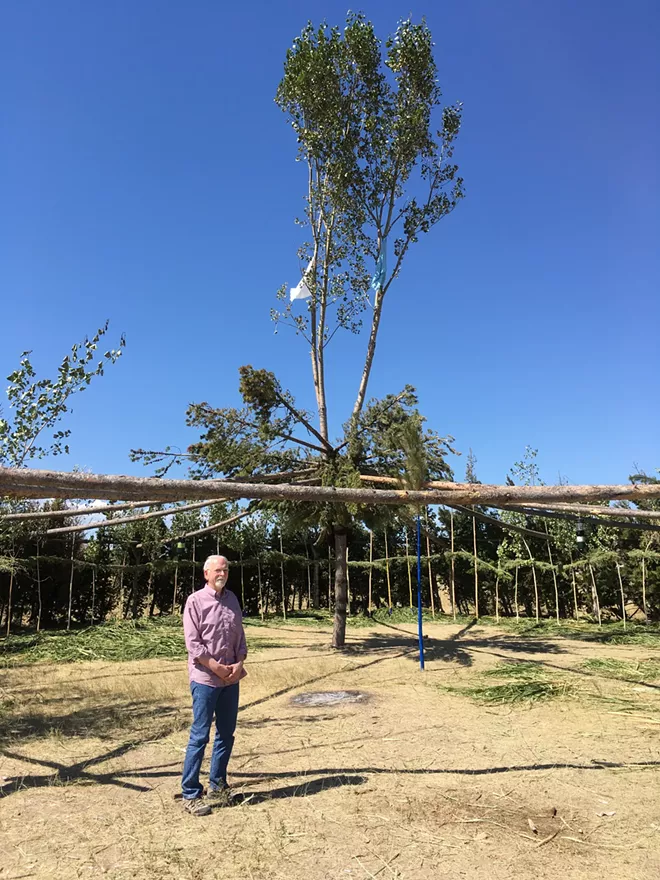 MOSCOW -- At the beginning of his career in anthropology, Rodney Frey sat under the shade of an old Montana cottonwood tree in June 1974, intently focused on the words of Apsáalooke (Crow) elder Allen Old Horn.
Holding a cassette recorder, the 24-year-old graduate student bombarded the patient elder with questions about ceremonies, language and tribal customs until the moment the man raised his hand, stopping Frey's next question mid-sentence. He pointed to a tin shed in the distance.
"You see that tin shed?" Old Horn asked. "It's kinda like our way of life … you can sit back here and talk about it … but not really understand … it's not 'til you go inside: listen … feel it …. feel the damp … see it from the inside looking out … that you really know what it's all about … you've gotta go inside."
In his new book, "Carry Forth the Stories: An Ethnographer's Journey into Native Oral Tradition," Frey recounts the life-changing words and the invitation they carried to open himself up to the idea of hnkhwelkhwlnet, "heart knowledge," different from his rigorous scientific training in "head knowledge." The University of Idaho professor came to realize both were essential in his more-than-40-year career working with, understanding and sharing the culture of the Crow, Coeur d'Alene, Nez Perce and Warm Springs tribes.
"Carry Forth the Stories," is a memoir of sorts, said Frey, now 67. For the first time, he tells his personal story, entwined with the wisdom and mysteries he encountered during his career, ways of thinking that changed him as a human being and shaped the way he taught.
"I felt it's time to interweave my personal journey with my professional journey and acknowledge things I hadn't given attribution to before," Frey said.
This includes Frey's experience with sun dances and his family's journey with cancer, for which they sought help from both American Indian traditions and Western medicine.
"It got pretty personal," he said.
Part of the book is what the Crows call basbaaaliichiwe -- you're telling your story, Frey said. Other parts are Frey sharing the stories of others, all previously approved by various tribal cultural committees.
"Ethically we need to acknowledge the sovereignty of tribal communities. These stories belong to those communities. Some things are not meant to be shared. I was very careful of that," Frey explained.
"Carry Forth the Stories" is a blend of essays, poetic reflection and ethnographic exploration. The differing styles are Frey's attempt to capture some of the power of the oral tradition. A mentor once told him when you write the words down they become dead words. The rich heritage of storytelling among the tribes is not just about describing past events, Frey said.
"When a story is retold of creation, it would have the power to bring forth that reality," he said. "It's a big jump; it's a different way of understanding reality."
In that way, an Indian name is vital and important, not just because it's a great spiritual name, he said, "which it is, but in the sense that when a young child received a name, the name would help guide child to become the words of that name." Another concept that changed the way Frey looked at the world was the idea of the wheel, introduced to him by one of his primary teachers, Tom Yellowtail, a traditional healer and sun dance chief who was also a devout Baptist. Yellowtail looked at the world as "a great rock medicine wheel" with spokes made up of the world's religions and ethnic groups.
"Each was equally important. All the cultures were needed for the wheel to turn effectively, and all were linked to the same, ubiquitous hub," Frey said. "You can't get rid of some or make some bigger than others."
At the root of this teaching is the power of empathy, said Frey, "and the need to accommodate diversity and other people's voices without giving up your own voice, your own spoke."
In the book's Foreword, Leonard Bends, a retired sun dance chief, writes that Frey's passion to share his experiences, "brings life back to the dead words that are written."
"Carry Forth the Stories," 286 pages, costs $29.95 and is available direct from WSU Press at (800) 354-7360 or online at wsupress.wsu.edu.
If You Go
Who: Rodney Frey
What: Reading "Carry Forth the Stories: An Ethnographer's Journey into Native Oral Tradition"
When: 7 p.m. Thursday, June 22
Where: BookPeople of Moscow, 521 S. Main St., Moscow