Kate Skinner is familiar with the feelings of isolation and separation that come with being a woman in the jazz scene. So, it was no surprise when, at a performance in Spokane, she was the only woman in a band of 25 musicians.
Downstairs, before the performance, she sat alone in the women's dressing room, listening to the distant sounds of her 24 male co-musicians laughing and conversing.
This feeling of seclusion became standard for her.
"I just thought about it, and people will say they can't control it," she said. "But it inevitably affects the social landscape when you are literally separated physically from everyone else. These social effects are huge, and they're also a thing that maybe men don't always realize."
Female musicians have always influenced Skinner in her own musical pursuits, as she felt represented by them and their ability to break through glass ceilings. These women include jazz pianists Renee Rosnes and Geri Allen, singer-songwriter Aoife O'Donovan and Camille Thurman, a saxophonist in Beyonce's all-female band.
She also cited the all-female band Saje as a major inspiration. She had the opportunity to play piano alongside them at the 2021 Lionel Hampton Jazz Festival.
"For all of us on stage, it was an incredibly moving experience," she said. "The musical aspect was so high and there was this added layer of emotion. By the end of the performance, there wasn't a dry eye on stage."
But heartening moments like these haven't been the bulk of the industry experience for Skinner or other minority musicians. As a woman in music, she has faced social consequences that deeply affected her. In the jazz scene, many of her experiences performing have been as the sole woman in a predominantly male band, a routine experience for many women in jazz.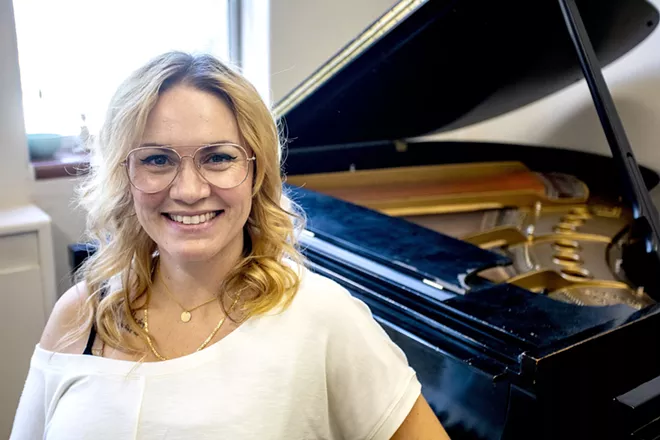 Jazz is a boy's club
"I actually used to just love being 'one of the guys,' " Skinner said. "But one guy would start telling a joke, and he gets to the punchline, and he won't finish it because it has sexual connotations, and he thinks he can't tell me because I'm a woman. Or hearing everyone say they're going out after the gig to grab a beer, and they don't invite me. I was left out of conversations, a lot. Those social things, because of my personality, have affected me a lot."
Having taught as a professor on three different campuses, Skinner also sees her share of gender discrimination in a teaching setting, with students often choosing to place a male faculty member's opinion over her own. She said she sees students who question her professional opinions but rarely question those of her male colleagues. While she stays hopeful that blatant misogyny among students is going out of style, she still witnesses a struggle for women and minority musicians to break into the jazz scene.
"It's still a boys' club," she said. "The women who play jazz here sometimes feel pressure to be one of the guys. I always felt that pressure, and I see those women navigate that. It's a really hard thing for them to be a college student too, because you're figuring out who you are, who you are as a woman, what your feminine identity is, what your sexual identity is, and it puts all this extra pressure on you."
Pushing for change
On the top floor of the University of Idaho's Lionel Hampton School of Music, two glistening, black grand pianos sit in the corner of Skinner's office. As an assistant professor of jazz piano, she sits side by side with aspiring student musicians to help them with their craft, and she advocates for those whose musical voices are suppressed. Skinner said she feels she truly has something to share through the world of music.
Because of the influence of female musicians in her life and gender-related struggles in the industry, she strives to advocate by intentionally providing opportunities. This can include arranging pieces specifically to feature a woman or minority musician or being firm about them being placed during auditions.
"And we have other faculty here who are the same," she said. "They will literally say 'Hang on, we have all these people up for this scholarship, why are there no women on the list?' Those conversations happen a lot among our faculty."
Ruby Fulton, an instructor of theory and composition in the Lionel Hampton School of Music and a close colleague of Skinner's, said she admires Skinner's efforts to provide platforms for minority voices in music. Fulton noted an event she attended last year in which Skinner's band exclusively played music either written by women or inspired by them.
"Every student who played in that band and every person who attended the show heard an unspoken message that music by women is important and worth listening to," Fulton said. "This is just one example of the type of programming and advocating that Kate does regularly, whether people notice or not."
UI student Elizabeth Worley, who is double majoring in animal science and trombone performance, also views Skinner as an advocate and said she has greatly inspired her musical endeavors.
"Kate has proven to me that in a world of men in the jazz world, women can be just as successful, if not more," Worley said. "She is always out playing gigs and spreading her love of jazz through the notes she sings and through every ivory on the keyboard. She puts just as much passion in teaching jazz as she does playing it."
Quest for inclusivity
Skinner said she believes the future of inclusivity in music begins with realizing women and other minority musicians must be intentionally considered and she cites social media as an excellent tool to effect this. Last year, Skinner commissioned a piece for her student band from Colorado-based composer Annie Booth and enthusiastically posted about it on social media. She also posts videos of her students rehearsing to encourage and promote them. With social media, these musicians can be seen on a bigger platform, and this can be effective both within small communities and on a much wider scope, Skinner said.
She noted famous jazz musician Jacob Collier as an example of intentionally considering and providing opportunities to minority musicians. Collier is back on tour, after a pandemic hiatus, with three women in his band. She said that move is more substantial than people may realize.
"There is so much more awareness now; you wouldn't even talk about this stuff when I was an undergrad," she said. "People are realizing that you can't just say 'Yeah, I want to have women play with my band,' and that you have to actually, purposefully, hire women. It makes a huge difference to see someone so significant intentionally hiring women in their band."
Like Skinner, Fulton said she believes in the importance of highlighting minority voices in music and said she feels more musicians in places of authority must embody these ideals.
"For such a long time, the music industry has been dominated by white men," she said. "The problem with that is not that they necessarily did bad things but rather that they largely represented one perspective only. People make music everywhere and always have, so the music world is inherently rich with diversity. If only one perspective is in a position of power, deciding which artists and music styles are the most important and where to allocate funding, then audiences and listeners miss out on a rich array of different sounds, ideas and approaches. This is why it is so important to advocate for more women, musicians of color, gender nonconforming and LGBTQ musicians to work in the music industry and especially to be welcomed into positions of power within the industry."
'Be true to yourself'
A crucial piece of advice Skinner offers women and minority musicians is to never change themselves for a version they believe someone wants them to be. Be true to yourself, even if you aren't sure who that is and even if it changes on a daily basis, she said.
"We're all going to lose and gain opportunities throughout our career, and remember, with music it's a long-term journey," she said. "The things that might hurt now or be challenging now will be gone eventually. If you think that opportunities are passing you by because you're not a man, you choose how you navigate that."