Among the chatty ambience and hustle and bustle of The Breakfast Club in Moscow, chef Christopher Connelly, known as "Spike," has just about any hot sauce
combination you could think of in the works.
Originally from Riverside, Calif., Connelly found his passion for cooking amid unexpected circumstances. In 2007, while he was pursuing a master's degree in writing from the University of Massachusetts Amherst, the economy crashed. The university could no longer afford to fund Connelly's program, and he was unable to finish.
"I started cooking and I figured out that's what I like doing much better than writing," he said. "I started there, and it just kind of exploded from there."
Connelly moved to Moscow soon after, working at the Moscow Food Co-op as a cook for nearly a year, and as the first sous chef at Birch & Barley in Pullman. After a couple of years, he moved to Eugene, Ore. and took a job at a bar called The Highlands, where he cooked for the bar's wing night on Mondays. Connelly's wing night became so popular that Monday nights were busier than Saturdays. He began inviting fans of his wings to his own home to try out new recipes, and many of them encouraged him to start his own wing restaurant. He didn't have the money for that, but he decided he could start with a sauce.
With hopes of starting a new sauce business, he returned to Moscow. An opportunity arose for Connelly to oversee the production of The Breakfast Club's house brand hot sauce, Vandal Pepper Sauce, as well as run his own hot sauce brand, Irish Spike's. He is now the executive saucier for both brands.
Irish Spike's has gained immense traction in the three years since. Bruce Kalman, a former contestant on the reality competition TV show "Top Chef," features three Irish Spike's sauces in his new Las Vegas restaurant, Soulbelly BBQ. J. Kenji Lopez-Alt, the former culinary director for the website and blog, Serious Eats, has posted about Irish Spike's. Andrew Zimmern from the TV series, "Bizarre Foods," also has posted about the brand.
Connelly's interest in hot sauce began while working at the Moscow Co-op. He discovered he had a tongue for combining interesting ingredients.
"I was cooking their pulled pork, and I walked out onto the floor one day and saw blood oranges and limes and thought, 'Oh that sounds good, I'll put those together with chipotle,'" he said.
That concoction became the earliest version of Irish Spike's most popular sauce, Unicorn Blood.
From pesto to sour apples, making hot sauces out of unusual ingredients comes naturally to Connelly.
"I walk into a store and a little pinball goes off in my head," he said.
Connelly has developed 18 sauces in his brand line. The names are as unique as the ingredient combinations, like a spiced carrot and ginger sauce called Killer Rabbit, a cranberry-habanero blend called Bizarro sauce and a grapefruit-habanero sauce called Pink Flame-ingo. The naming process is sometimes spontaneous and easy. Occasionally, it comes from the ingredients themselves. In a few circumstances, it has come from interesting experiences associated with the sauce.
"The Sweet Lava sauce took us a while," Connelly said. "It was originally going to be named Sweet Love, and I thought it was nice, but it just didn't seem quite right. Then I was using some, and I said that it looked like lava, and there you go."
Fun fact: The hottest Irish Spike's sauce is the Idiot Sauce. With a heat level of 11/10, according to the brand's website, it is a combination of 10 hot sauces and Trinidad scorpion peppers. The sauce originally was supposed to be a joke."It was supposed to not taste good, but despite my best efforts, it does," Connelly said.

tweet this
The sauce-making process is rigorous and lengthy, with each sauce taking about eight to 10 hours for a 200-bottle batch. The cooking process includes heating, adding spice, thickening and then bottling. There also is an inspection process, as well as logo and bottle design.
"As a chef, when you create something new, you just serve it," Connelly said. "For me, there's a whole process that has to be FDA-approved, and I'm a stickler for that. There's a lot of people doing backyard hot sauce, and a lot of people not doing things correctly. You have to go to school; you have to pay $400 for a class on better food handling; and you have to submit every sauce to a food scientist, which is $100 per sauce. They evaluate it to make sure it is shelf-stable. We have to show them our entire process to make sure there's enough acidity and that it's bottled correctly. It's quite lengthy."
For Connelly, what makes a great hot sauce is displayed clearly in Irish Spike's motto, "Flavor. Balance. Heat."
"It's all about balance. Flavor, balance, heat, in that order," he said.
Connelly collaborates with many local businesses to obtain ingredients for the sauces. Kamiak Coffee, based in Moscow, is featured in the Red Eye Whiskey and Coffee hot sauce, and Pullman's Paradise Creek Brewery beer is featured in the Drunken Red and Drunken Green hot sauces. The Black Cherry Abyss hot sauce is used in Moscow's Panhandle Cone & Coffee's Cherry Habanero Swirl ice cream. Connelly also rebrands several of his sauces by renaming them for area businesses, including Café Artista, Paradise Grill and Café, Stax and more.
Irish Spike's logos and bottle art highlight artists from around the country. Lauren Seeley, a New York-based artist, recently designed the Black Cherry Abyss bottle art.
Griffin Rod, co-owner of The Breakfast Club, feels that Connelly and Irish Spike's have enhanced business overall at the restaurant, as has its house-brand hot sauce, Vandal Pepper Sauce.
"The partnership that's come along with him making our sauces and working here has so many benefits," Rod said. "It's enhanced the overall byproduct of The Breakfast Club. It's been a bonus for both parties involved. But first and foremost, I enjoy Spike. He's super passionate. He's intelligent. He's got a great sense of humor. Having him and his family there helping us fine-tune the business has been an incredible, unpredicted bonus to having him there."
Offering a wide variety of sauces for sale has created excitement in new and returning customers, Rod said.
"They love it. The people who are into it are really, really into it. We get guests that come in that ask for a whole caddy. Having 18 different sauces is such a unique thing to present to customers."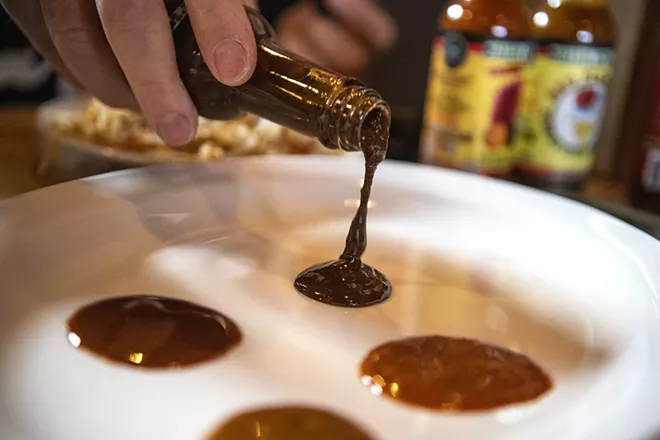 For the future of Irish Spike's brand, Connelly hopes to find a larger facility somewhere in Moscow, grow his business, and be able to hire more employees.
"I want to be able to pay people to make their lives better," he said. "We've got great employees, and we work really hard to make sure that they get taken care of as best we can. I want to continue that and hopefully grow, and be a part of the community in that way. That's my No. 1 goal, more than the hot sauce."
Irish Spike's hot sauce can be purchased at The Breakfast Club or online.