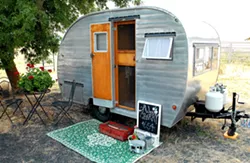 TROY — When travel trailers first started roaming American roads in the 1920s their owners were called tin can tourists.
The rolling homes were small: a bed, kitchen and dinette in one room. Over the decades they morphed into today's bus-sized recreational vehicles, mansions in comparison, but there's a new demand for the old models. People around the country are restoring and refurbishing vintage trailers in unique ways and women are finding them particularly appealing.
Juli S. Thorson, 59, jokes she finds herself in the role of "trailer pimp" because she helps friends find vintage trailers to buy and remodel. The Troy-based editor of Horse & Rider magazine has six trailers on her property, the oldest is a 1953 Aljoa called "the canned ham" in its day. She uses them for travel and as guest houses.
"I've seen everything from Parisian to '70s mod," Thorson says of the artsy approaches people take. "It's really something to go to a campground and see 100 of them, all unique."
The canned ham belongs to Shelley Bennett of Moscow and its theme is cherries. Parked beside it is Thorson's 1972 Red Dale, which sports a mural of a motorcycle pulling a cowgirl on a wagon. Inside the theme of cowgirls continues with their decoupage images on cupboards. There's leather fringe and couch cushions that are recovered with vinyl that looks like embossed leather. Rugs, throw pillows, dishes and lamps also match.
Thorson got interested in vintage trailers after reading a 2002 Country Living article about a new women's organization called Sisters on the Fly. The group was started by two Western sisters who enjoyed fishing and camping. They fixed up some old trailers, invited some female friends and a movement was born. There are now more than 2,900 members worldwide, according to the nonprofit group's website. Thorson is No. 444. Not everyone owns a trailer but the group has become known for them.
It's not only women fixing up vintage trailers, Thorson says. There are male and co-ed groups promoting restoration and gatherings too, including Tow Boyz, Tin Can Tourists, Vintage Vacations and Rollin' Oldies Vintage Trailers. Thorson started a blog, Girl Camping about the vintage trailer experience.
Vintage trailers will come to Lewiston Sept. 6-9 for the Cowgirl Rendezvous organized by Julie Pierce of Lewiston. They will be in the Lewiston Roundup parade at 9:59 a.m. Sept. 8 downtown and the public is invited to tour them from 1-3 p.m. afterward at Locomotive Park.
"I just think that it's one of those things that's coming and I'm just doing my part to bring it to Lewiston. It just fits right in with our lifestyle here," says Pierce, 54.
The lengths people will go to bring a theme to life is extraordinary, she says, describing a Hawaiian trailer with a tiki bar, a Serro Scotty dedicated to Scotty dogs, and a trailer called Betsy Ross dressed in red, white and blue.
Idaho Cowgirl Rendezvous is billed as "four days of outdoor cowgirl sisterhood for women of all ages." Vintage trailers or horsemanship skills are not required. The rendezvous isn't a Sisters on the Fly event but it's inspired by the group that Pierce recently joined. Activities include a jet boat trip and the Lewiston Roundup rodeo.
She thinks the term "cowgirl" often comes up because of "the freedom, independence and self-reliance that Western spirit embodies."
Fixing up and towing your own trailer is part of that. For those looking for one, Thorson calls the area between Lewiston and Boise "a hotbed of vintage trailers" because there were factories in Pendleton and Boise and the surrounding area is rich with recreation opportunities.
The most important thing to consider when selecting a vintage trailer is your tow-capacity, Thorson says. "Start with what you've got to tow it with."
If you buy a trailer too big for your vehicle to tow it's not going anywhere.
If a trailer is road ready with a good frame, axles and no broken springs, she says, from there "people shouldn't be afraid to take it apart and make it their own."
Pierce doesn't have a vintage trailer of her own, yet. She is envisioning her 1984 motor home as a "cowgirl bunkhouse" and has a pair of long horns to mount on the front.
"My husband just rolls his eyes," Pierce says, with a laugh.
What: Idaho Cowgirl Rendezvous When: Sept. 6-9 Where: Hells Gate State Park -Open house featuring vintage trailers, 1-3 p.m. Sept. 8, Locomotive Park - Dinner and music by Beargrass, 6 p.m. Sept. 8, Hells Gate State Park, $20 A list of activities and registration information is at: www.cowgirlrendezvous.com