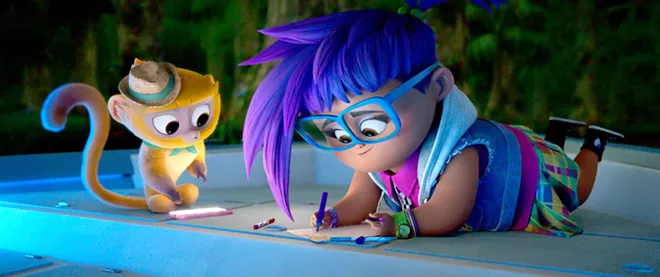 Plugged In
"Vivo" is an animated musical experience that provides the emotional heartbeat you'd expect from a Pixar film, even though it's a Sony film found on Netflix.
Vivo (voiced by Lin-Manuel Miranda) is the titular character, a kinkajou (not a monkey, but a mammal, don't worry the movie explains it). He lives in Havana, Cuba, with Andres, (voiced by Juan de Marcos González). Together they perform in the plaza and life is perfect, until a letter arrives for Andres from his former musical partner, the famous Marta Sandoval (voiced by Gloria Estefan), inviting Andres to accompany her at her last performance.
Vivo decides to travel to Miami for the concert, but only because Andres has a song to give Marta that shares his untold feelings for her. However, the trip is not as easy as Vivo plans with several setbacks that revolve around an energetic and unstoppable young girl, Gabi (voiced by Ynairaly Simo).
As one might expect of Miranda, who penned Broadway hits such as "Hamilton" and "In the Heights," and lyrics for Disney's "Moana," "Vivo" contains a plethora of songs. They often have a Latin rhythm fitting of the Cuban-style setting. Some songs feature Miranda's rapping (similar to "My Shot" from "Hamilton"). Gabi's solo voicing her independence has a more modern feel to it with techno and hip-hop elements.
The music of "Vivo" gives characters a way to voice their sadness and desires and
music appreciation is definitely a theme of the movie. It explores how people use music to connect to others and how one song can make a difference. Throughout their journey, Vivo and Gabi bond over music as they find a new rhythm and melody all their own.
This exploration takes place amidst the backdrop of stunning animation. Not only does it have the vibrant colors you'd expect from the tropical setting, it helps the audience visualize the music as well. Some songs have bright, flashy colors reverberating in sync with the bass or feature characters dancing along with visual musical notes on the screen. It's like every musical number is its own spectacular music video.
While this could distract, and even disconnect, from the film's narrative, it doesn't. The main plot remains the pulse, keeping the story on track. At the heart of that pulse is the characters' love for each other, Vivo's love for Andres and Andres' love for Marta. It's an emotional story that will require you to have some tissues handy.
The music in "Vivo" would be enough to make it worth the watch, but the dazzling animation and poignant story make the movie worth the watch three times over.